Best WordPress Online Chat Plugin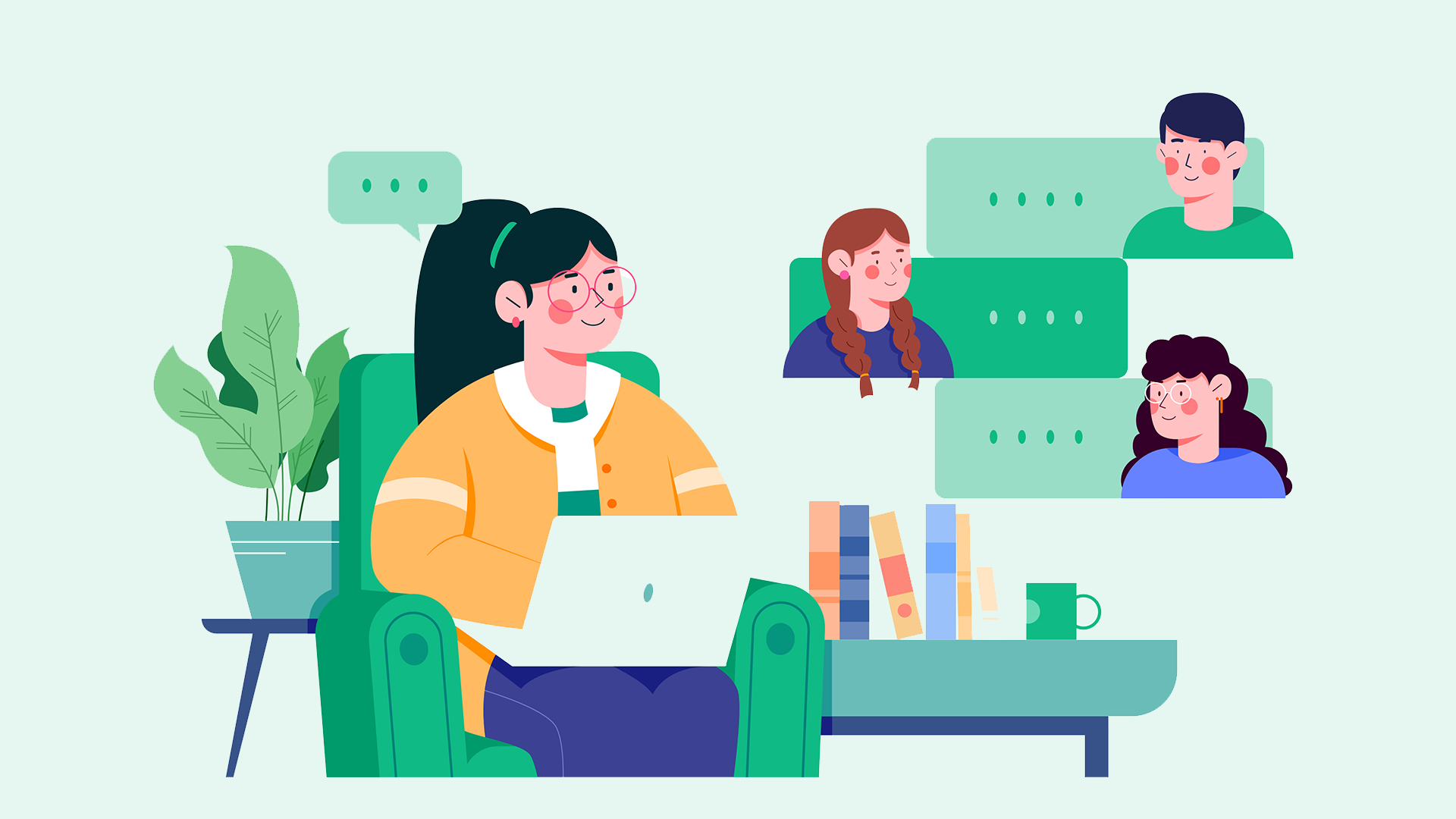 In this article, we want to introduce you to the best online chat plugin and support in WordPress. You must have seen models of online chat on various sites and used their support services with a simple click. This article can be a good guide for you, considering that the variety of support plugins and online chat is excellent, and you do not have an easy choice. But, What is the best WordPress online chat plugin?
The best WordPress online chat plugin
Indeed it has happened to you that you have given up because of doubts or questions you have about buying products online. These plugins can help gain trust and dispel the doubts of customers.
An online chat system is essential for any website with a product or service to offer. Because with better interaction with the user, you are trying to solve customer problems and ambiguities and answer customer needs and questions. As a result, you make a more secure purchase for the customer. Support on the site comes in various ways, including forums, FAQs, and product documentation. If this feature is not yet available on your WordPress website, it is best to use it immediately.
If you provide quality services and goods, you will gain many loyal customers. But quality service is one side of the issue; adding online chat also brings greater customer satisfaction. Also, keep in mind that if you do not provide the proper support in dealing with the customer, you will lose ten other customers for each dissatisfied customer because word of mouth (hot advertising) is done through satisfied customers.
How WordPress Online Chat Plugins Work
Once you have installed the online chat plugin in WordPress, a button will appear on your web page that the user will click on to enter the chat page. If the site expert is online, the user will receive the answer immediately, and if he is offline, the answer will be emailed to the user. This feature of receiving a quick response will cause the user to achieve the desired result and increase the site's user retention rate.
Benefits of Online Chat
This plugin is beneficial for users and site administrators to take advantage of this plugin. In the following, we will examine the benefits of its features.
Answer customer questions and ambiguities in the shortest possible time
Increase sales as a result of resolving customer ambiguities
Create constructive interaction with the audience
The fastest way to answer users' problems
Simultaneous support for multiple users at the same time
By protecting people's privacy, you can communicate with your customers without interruption and delay.
Tracking visitors in online chat plugins allow you to work on ads by tracking active users.
If you have international users, some online chat plugins (multilingual support) can translate your conversations.
Accurate and timely support for these plugins is renowned.
Choose the best WordPress online chat plugin
There are criteria for choosing the best online chat plugin; by examining them, you can make the right choice for your website.
Identify the needs for user support.
What features of online chat do you need?
What budget do you have for using the support system?
Do not underestimate the reviews in the plugins.
Top online support plugins
We will introduce you to several chat plugins or online support in the following. Of course, before that, you should check whether you want to have an online support system or online chat ?! Online chat is very convenient for selling products. But not for product support! But why?
Usually, your user expects to receive a response within seconds in online chat mode. This is not suitable for answering product support questions. On the other hand, it takes time to authenticate the user and know exactly who the user bought the product from you. So it is better to use a WordPress support and ticket plugin. We suggest using MihanTicket for this. The environment of ticket support systems is as follows: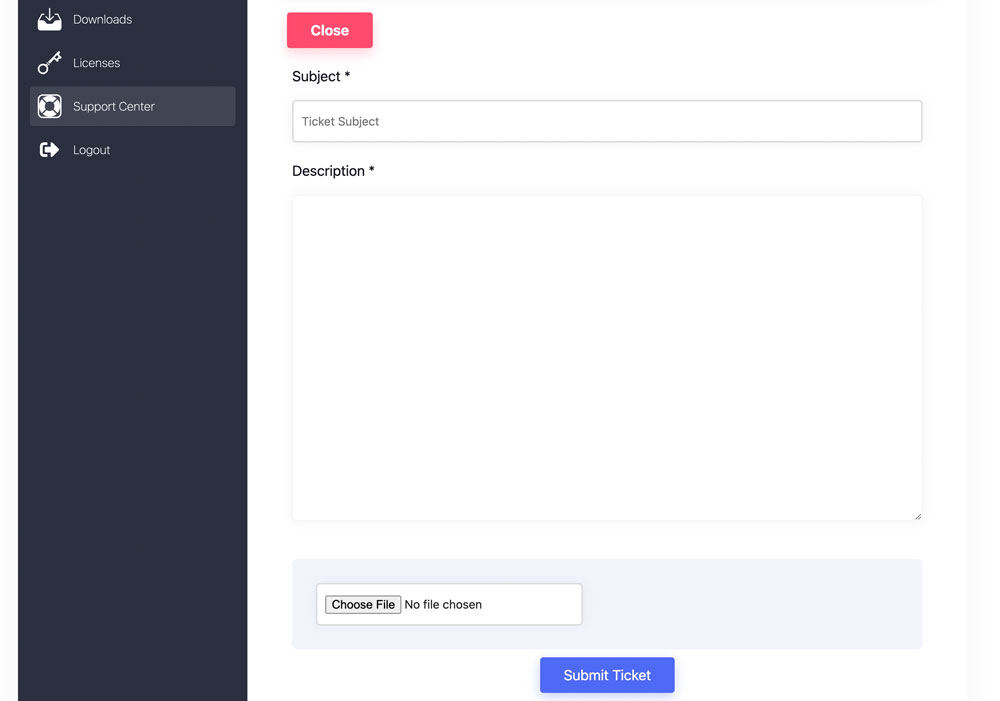 Crisp plugin
Crisp plugin can be introduced as the best plugin in this field—great features in the free version and great features in the pro version. If you want to set up an online chat system in WordPress for free, we suggest using the Crisp plugin.
Crisp plugin capabilities
Indicates the user's position
It is possible to connect to WordPress with a ready-made plugin
Possibility of support with mobile software
Web-based support
And plenty of features in the free version
Zendesk Chat plugin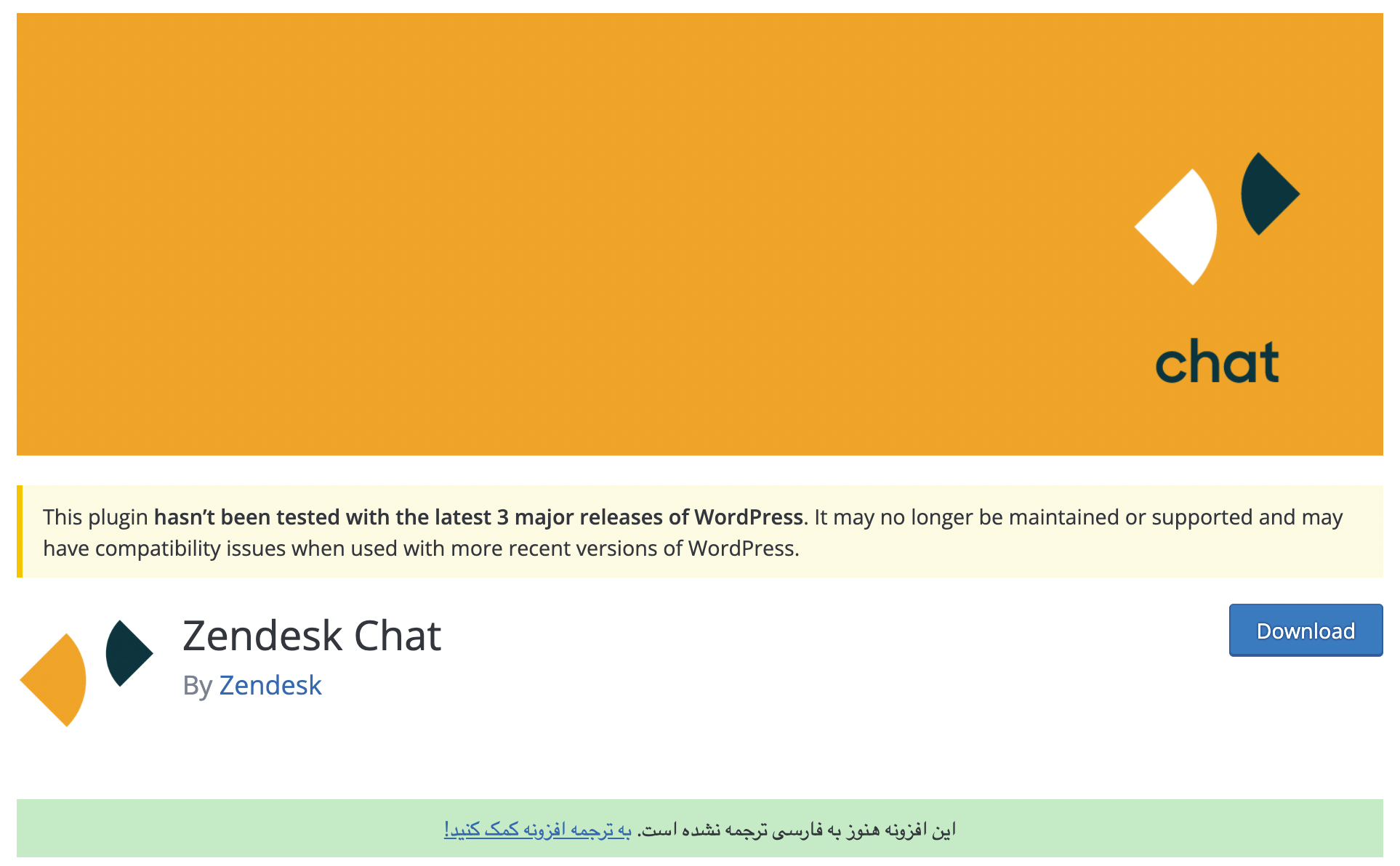 This old and old plugin is offered in two models, free and premium. The free version of the Zendesk Chat Plugin, like previous plugins, can meet many of your site needs. But if you have more needs for your site, it is recommended to get a premium version. Not bad to know the premium version plan also starts at $14 a month.
Of course, Zandsak is mostly used for ticket support. But you can also use its online chat alongside your site support system.

Features of Zendesk Chat Online Chat Plugin
This plugin has a mobile application
There is the ability to track visitors
It will also be possible to install and launch the plugin quickly
It is possible to check the response time
Ability to rate the conversation by the user
Ability to translate messages automatically
LiveChat plugin
This plugin is handy. But it can only be used in dollars and for a fee. There is no free version. Livechat can be considered the best plugin in the non-free versions of this list.
Advantages of using this plugin
Excellent user interface
Rate conversations
Integration with WordPress system
Ability to translate conversations
And many other features…
3CX Live Chat plugin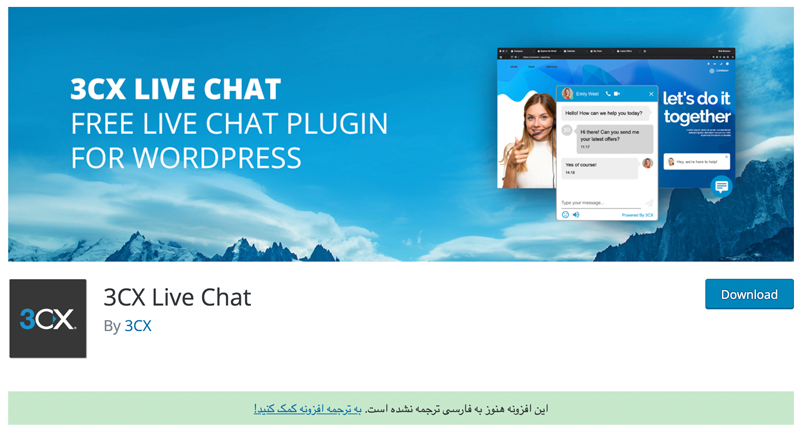 3CX Live Chat plugin, the best and most popular online chat plugin that is provided only for free to site administrators, has a large number of installations and meets the needs of WordPress sites well. The 3CX is a call center telephone system. But recently, with the introduction of an online chat plugin, it is with you to complete the communication system with your users.
Benefits of 3CX Live Chat Plugin
Compatible with WordPress multilingual plugins
It has six beautiful default themes for chat boxes
Easy user interface with lots of personalization capabilities
Show chatbox only for registered users
Send notifications on desktop
Ability to edit messages by backup
And many other features…
Of course, the environment of using this plugin is not very interesting and like Crisp or other plugins, it does not have a beautiful design.
Tidio Live Chat plugin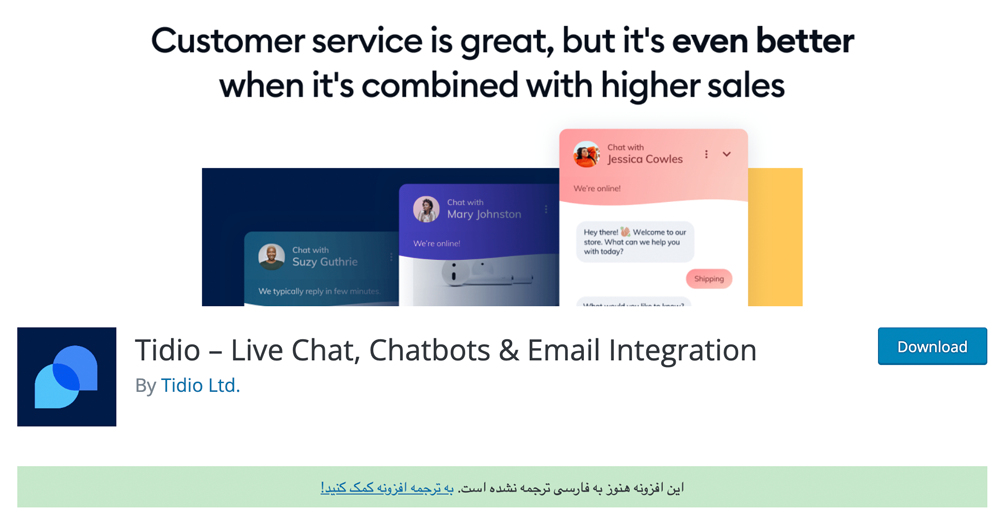 Tidio Live Chat , like Crisp, has good features in the free version, and we suggest you use it. Features such as ready-made answers, sound design and customization, and a mobile application for constant response to users.
Remarkable design of counters and chat boxes
Ability to customize the color of the chatbox
Ability to chat on the web as well as the mobile app
Ability to use ready-made answers
Quick installation and configuration of plugins
Provide statistics and analysis of site visits
Ability to evaluate the conversation and score users
Tawk.To Live Chat plugin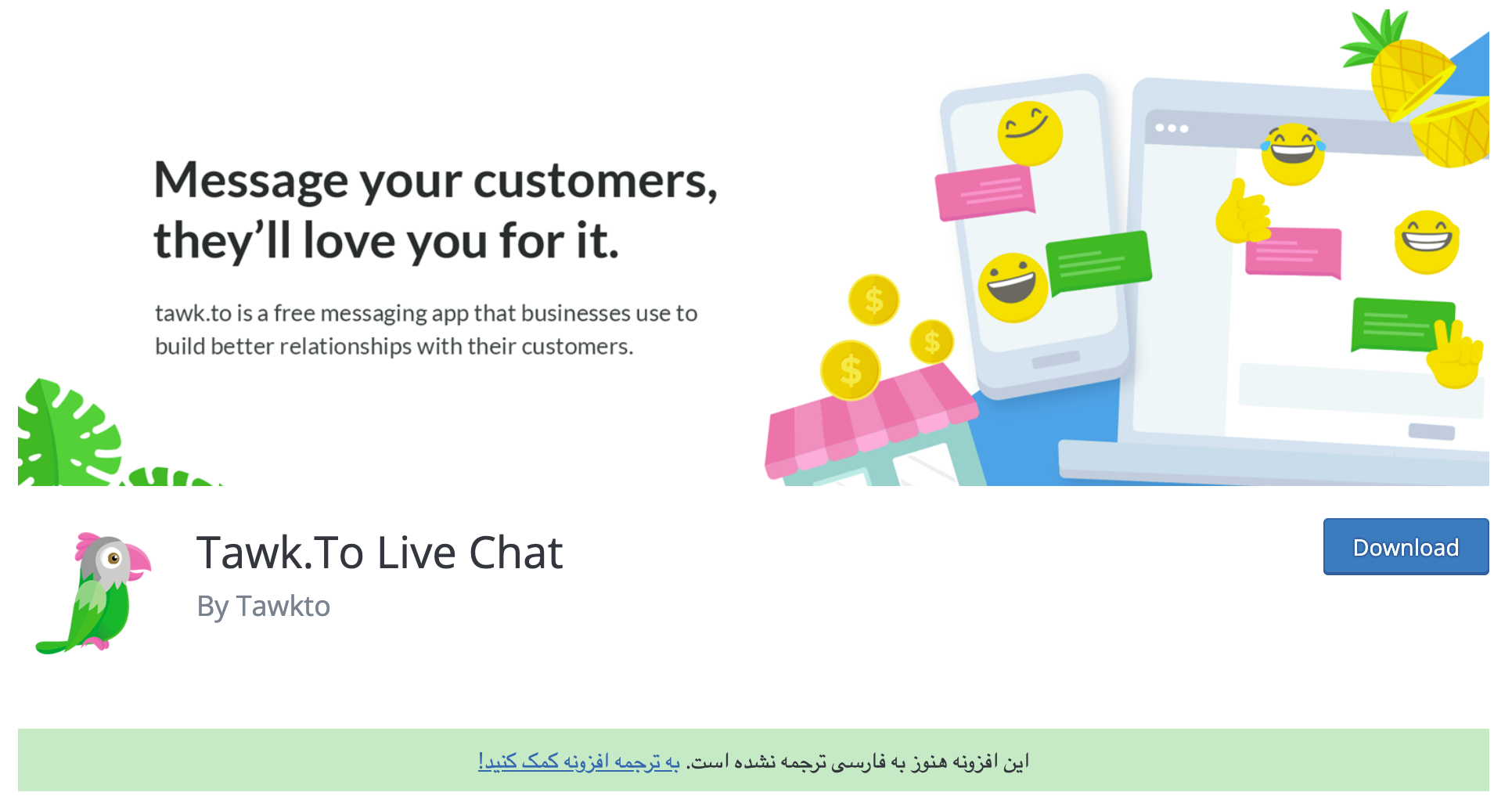 Another completely free plugin that has a lot of customization is the Tawk.To Live Chat plugin. You can even change the plugin's color to match the central color combination of your site.
Other features of Tawk.To Live Chat plugin.
Standard plugin design and responsiveness
Ability to place the chat box in the widget area
Ability to customize a lot with different colors
Ability to add unlimited backups
Ability to send files
Has ready answers
Ability to save call history indefinitely
Jivochat plugin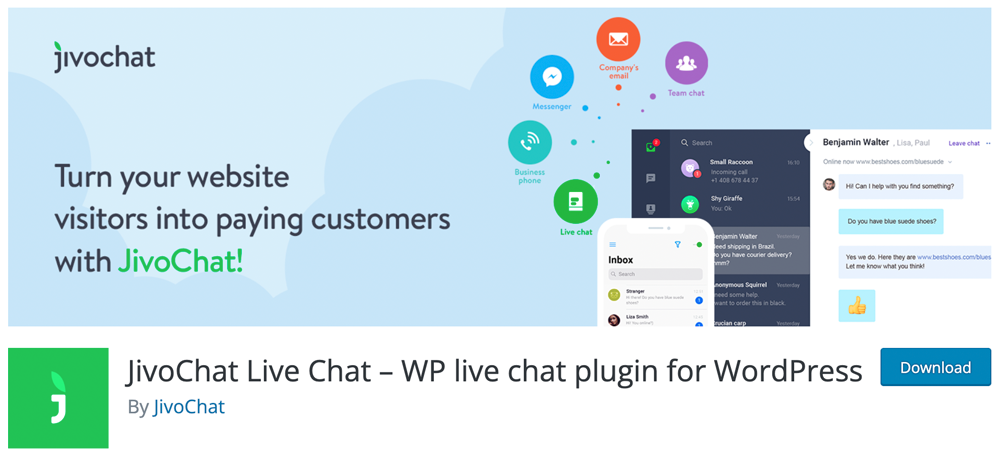 If you are looking for a compact, lightweight, and fast press plugin, we recommend Jivochat. In addition to the great features of this plugin, you can also connect to social networks and have better services.
We suggest you read our article on why WordPress sites are slow .
Features of the Jivochat plugin
View users' messages live while typing
Ability to automatically translate text messages
Possibility of flat and simple design
Ability to track audiences
Easy and fast installation
Fully responsive
Very light, compact and fast
General summary
In general, in this article, we examined which online chat plugin is better for WordPress. We know that WordPress has a lot of plugins, and the list of these plugins never ends. Thank you for accompanying us to the end of the article. As we mentioned at the beginning, this article has been written to introduce you to the online chat plugin and the top plugins in this field. By reading this short and helpful article, you can get acquainted with and use the best support and online chat plugins. If you find this article useful, share it with your friends. What online chat plugins have you used so far? Comment your experience to us.