WordPress vs Python: Use WordPress or Python to build your website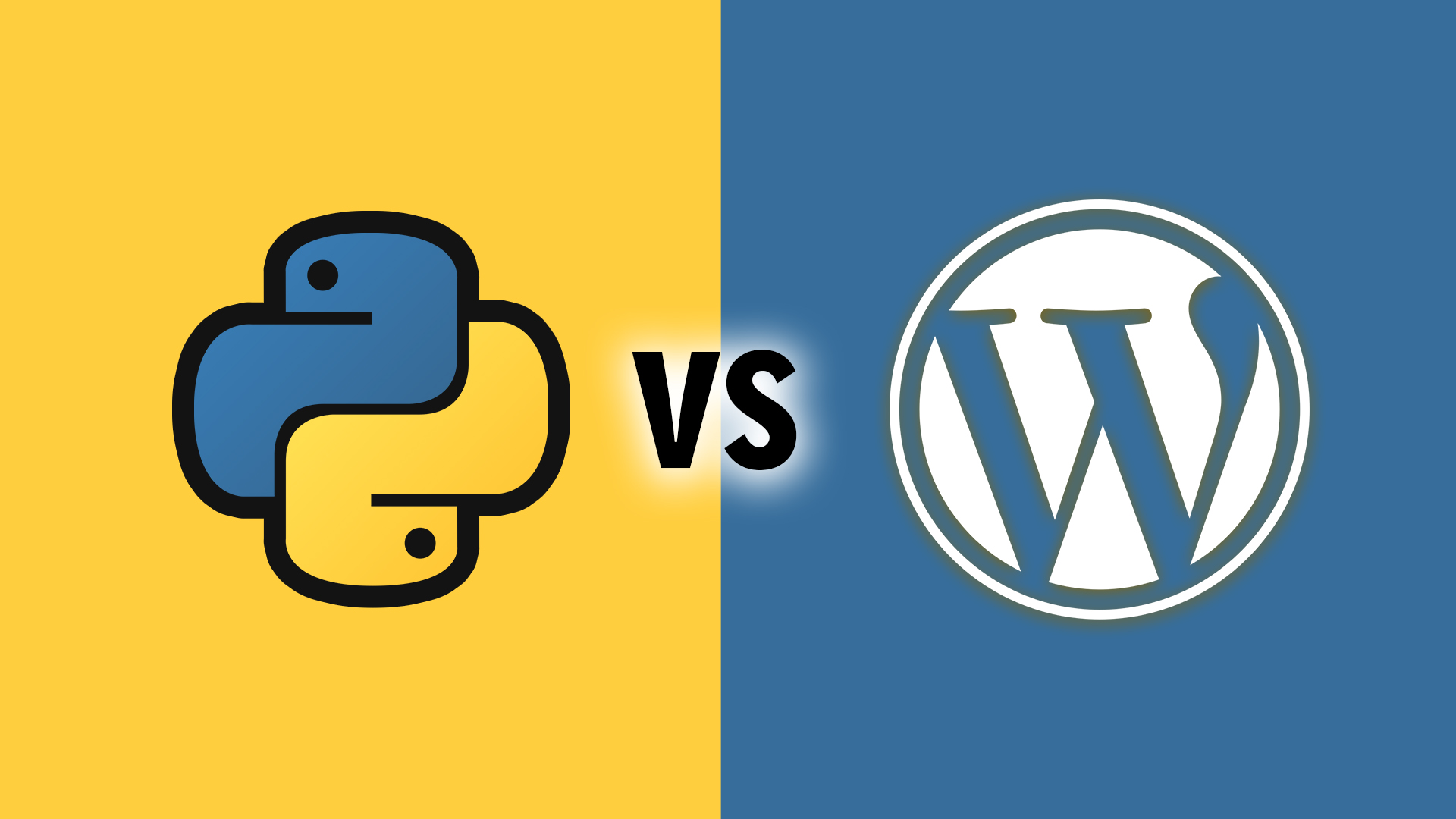 WordPress or Python? This is a question for many people who want to learn how to design or launch their website. They are constantly challenged to launch their website with what system and programming language? With content management systems (CMS) such as WordPress, Joomla, Drupal, and… or programming languages ​​such as ASP, PHP, or Python.
Each of these methods has its advantages and disadvantages for designing the website. By examining the advantages and disadvantages of each, you can choose which of these methods to build your website. In this article, we will compare WordPress and Python programming languages, so stay tuned for the rest of the article.
We have already talked about choosing WordPress or PHP, and we suggest you read this article as well.
Website design with WordPress or Python
WordPress is a content management system (CMS) for creating and launching a website. WordPress was originally a platform for blogging, but today, with the advancement of technology and various updates, it has become a content management system, or better to say, a website builder, which can build a variety of websites, including store, news, educational, corporate, Personal, etc.
It should be noted that you do not need to learn any programming language to build a website with WordPress, and you can launch your favorite website without writing a single line of code and only using pre-coded templates and plugins. In the following, we will examine the benefits of WordPress.
Advantages and disadvantages of WordPress
WordPress has many advantages, and these valuable advantages make many people who want to launch a website for their business use this method to design and create their website. Below we talk in detail about the benefits of WordPress.
Being free
You can create your WordPress website for free. WordPress has many free themes and plugins, most of which are free, and you can build your WordPress website for free. Of course, pay attention to the fact that if you want your website to have more and better features, you can buy non-free templates or plugins and install them on your WordPress website, which is a meager cost, but designing and building the website with the program language Writing is very expensive.
Ease of installation and ease of use
You can install WordPress quickly and with a few clicks by visiting the WordPress website at wordpress.org. This is one of the reasons why WordPress is more popular than other content management systems such as Joomla and Drupal. You can also get your website up and running without the need for coding knowledge.
You can use ready-made templates to design your website, and if you need to customize a part of the website to your own, you can ask a PHP programmer to design and create it for you for a small fee.
Ability to build responsive websites
WordPress allows users to design and implement responsive websites. A responsive website means that the change in the appearance of the website pages is commensurate with the size of the user's browser. Simply put, responsive design is a way to design a website that makes the website's appearance appear on all the devices with which the user visits the site, including computers, laptops, tablets, mobile phones, and in proportion to the screen size of that device.
flexibility
One of the significant advantages of WordPress is its high flexibility in website design. This means that WordPress has thousands upon thousands of templates developed and has many plugins and plugins that can be easily installed with one click. This feature of WordPress has caused the user to design different pages and sections of his site according to his taste and add many features to his site by using other plugins. So users can create their website to their liking and taste.
SEO or search engine optimization
 SEO, or search engine optimization, is a set of processes that results in your site being ranked in the top Google results. You can attract more visitors and users to your site when your site ranks higher in the Google results list.
WordPress sites help their users optimize their site for search engines due to various plugins such as US SEO and Rank Math. This is one of the essential features of WordPress sites that has made them more superior to dedicated sites in this field because reliable SEO sites are challenging and complex.
WordPress being open source or open source
WordPress is open-source software that allows many developers to access its source code and add many features to WordPress or modify its attributes. This feature of WordPress causes this system to be updated and improved every day.
Build all kinds of websites with WordPress
Different types of sites can be designed with a WordPress content management system. Without knowing your coding and programming skills, you can set up a variety of sites, including educational sites, store sites, news sites, personal blogs, job search and employment sites, photography sites, music sites, social sites, forums, and dozens of other sites. . So there is no limit to the type of website you can build with WordPress.
WordPress Security
Because many developers worldwide are working on regular updates and updates of WordPress, with the slightest problem or security bug, these developers quickly investigate and fix possible WordPress bugs. To keep your site safe, these updates should be downloaded and installed. So it is a misconception that WordPress is not secure.
Disadvantages of WordPress
Here are some of the disadvantages of WordPress.
Low speed in many formats
Unfortunately, some WordPress templates are slow. As you know, low site speed increases the user bounce rate because many plugins are installed on WordPress. As a result, these plugins take up a lot of space on the server, which reduces the speed of WordPress sites. To avoid this problem, you can use very light and optimized templates for search engines such as:
Ahura multipurpose WordPress template.
WordPress inability to build highly specialized projects
Since WordPress templates are ready, designing a site with WordPress can not be done based on the customer's opinion. You can not make much change unless the template you use uses influential page builders such as Visual Composer or Mentor. So if you do not know the coding skills, you should get help from a programmer to add a feature or possibility to the site.
Another disadvantage of WordPress is the inability of WordPress to properly manage the sites and large projects of the company or holding company. For example, if you want to work Oil Company or have a site with the power of YouTube, you must use the programming language.
What is Python?
Python is an open-source, high-level open-source programming language. Python Programming Language has a powerful and professional web design library. It is also straightforward to learn this language, so many programmers choose this language to start their programming. Also, the simplicity of this language has made it very popular among programmers.
Due to the disadvantages of designing a site with WordPress, you must use a site design with programming languages to have a professional site with high speed and fully customized. In this method, the programmer programs a site from zero to one hundred according to the needs and desires of the customer.
One of the programming languages ​​of the site is the Python language, which can design your site in a completely standard way and can also analyze data at any scale. In the following, we will discuss the benefits of site design with the Python programming language.
Advantages of site design with Python over WordPress
When you design your website with a programming language, the developer designs it from zero to one hundred according to the needs of your site and according to your taste and desire, so if you want to expand the feature or add to your site, you can easily Do this.
Another advantage of site design with Python programming language is the ability to control and manage users when developing a website.
Websites designed with a programming language are very fast because they are proprietary.
Websites designed with a specific programming language like Python are very secure so they are very unlikely to be hacked. Of course, if an experienced programmer really designs this site.
One of the best features of Python's programming language is its high flexibility so you can easily make custom changes to your site. Of course not easily! By programming!
Disadvantages of site design with Python
Because designing a site with a programming language is a bit complicated and they are designed by the programmer from zero to one hundred, so it takes a long time for the site to be ready to launch.
Another disadvantage of site design with Python programming language is the high cost of building the site. Because this site is designed by an experienced team, you have to pay a high price to build it.
Sites that are specially designed with programming language and their optimization and SEO is a very difficult and complex task, which is one of the major disadvantages of dedicated sites.
Conclusion
This article tried to compare and review site design features with WordPress and Python programming languages. As we found out, both methods have their advantages and disadvantages, and we have to decide according to our needs to design our site with WordPress or Python programming language.
For example, suppose we want to save time and money. In that case, it is better to use WordPress, or if we want to design our site from zero to one hundred according to our taste and with unique features, it is better to use Python programming language for site design. But in general, the benefits of building a site with WordPress are much more significant and better than designing a site with the Python programming language.
I hope this article was helpful for you.