How to Nofollow External Links in WordPress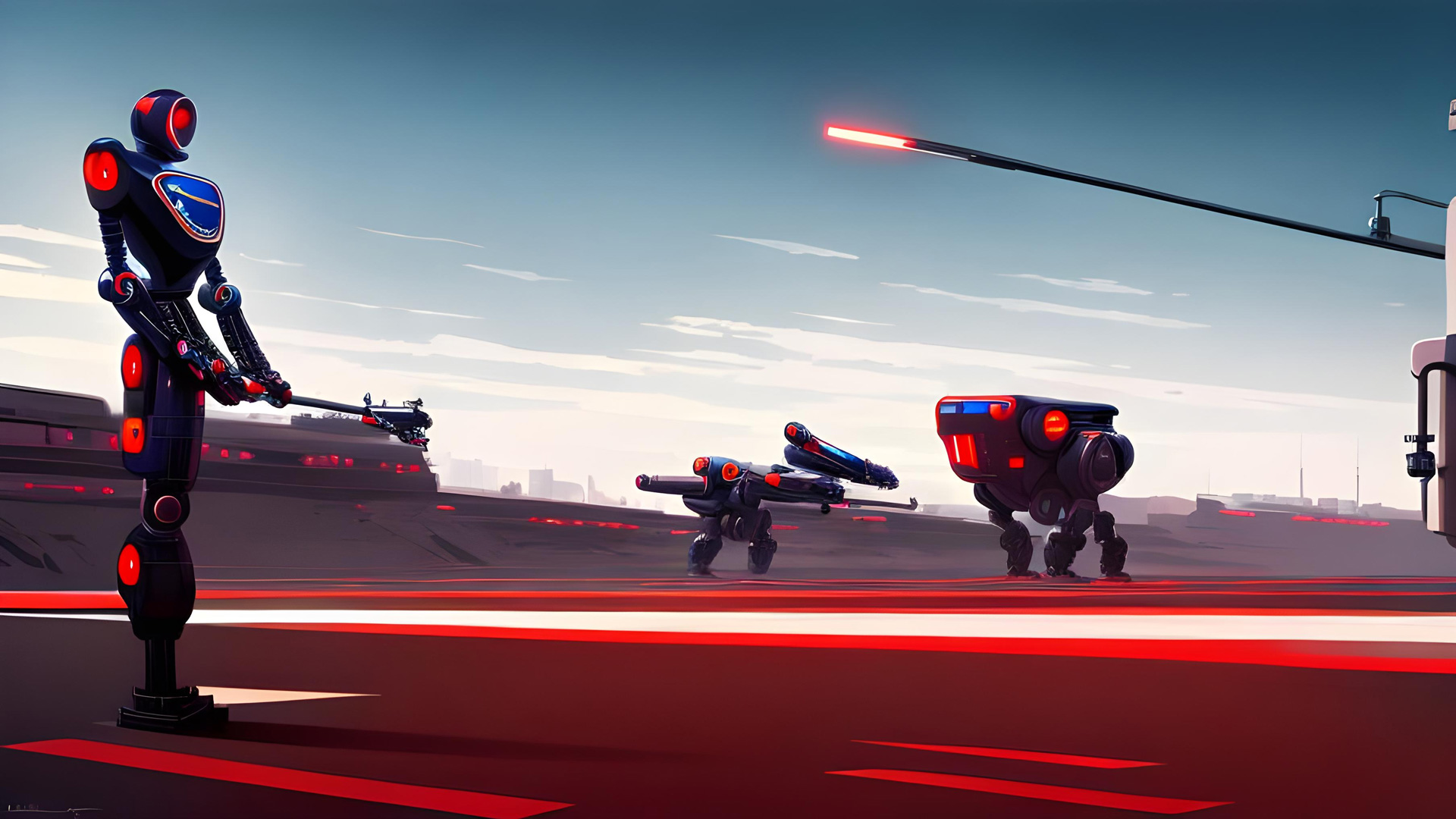 Do you want to nofollow all WordPress backlinks? Be with us today to introduce you a plugin to nofollow the outgoing link in WordPress. We will also check how to unfollow links in WordPress using Gutenberg (the new WordPress editor).
What is Nofollow?
Nofollow means that you are telling Google and other search engines not to consider and follow links from your site. And actually, consider that link without any effect. Nofollow codes have a great impact on the site's SEO and are therefore very important. For this reason, special attention should be paid to them.
But the very important point is that even the links that are nofollowed by your site are also of high value; Because these links cause the traffic of that site to increase and site visits to increase. And it cannot be said that a site that has a large number of nofollow links has the same rank as a site that does not have these links. But it must be noted that these links are not spam.
In fact, search engines like Google use different signals to increase the input of a site. One of these important factors is the incoming links of the sites. When you link to a site, it means that you give part of the quality of your site to this site. When the number of sites you link to exceeds the number of sites that have linked to you; So the quality of your site will be lost.
So, as you know, having a lot of outgoing links will decrease the SEO quality of your site, but if you make the links Nofollow; You have informed the Google bots that this link is outgoing and there is no need to enter this link. So Google robots do not consider that outgoing link as a link at all! As a result, this method is very suitable for increasing WordPress SEO.
Nofollow the outgoing link and why
You must keep in mind that if you want to include a link in your site's content, you must nofollow that link so that it does not affect your site's SEO.
Many people and bots try to enter your site illegally and intend to insert backlinks in it. You can prevent this by this method. And prevent your site from being spammed. And protect your site against such things.
Note that by doing this, you will transfer the credit of your site to another site. And gradually, with this work, the credibility of your site will decrease and Google will not raise your page; And your site will be weak. By doing this, you show that the linked site is approved by you. This is why professional webmasters will nofollow your links. Linking to other sites directly affects search engines.
You don't need to use a plugin to nofollow a link on your site; You can use the Rel=Nofollow option. This work does not require any plugins and you can easily do this; in fact, you don't need any special facilities. It is possible to do this very easily and without spending a lot of time. But for those who are not familiar with HTML or find it difficult to work with it, they can use the plugin and make it easier for them.
Nofollow the outgoing link in HTML
To nofollow the links, you must use the attribute Rel="Nofollow". An example:
<a href="https://mihanwp.com" rel="nofollow">وردپرس</a>  
By default, WordPress does not give Nofollow links to links, and you can manually use WordPress text editing to change the codes, but since time is a key factor for us webmasters, it is better to speed up the work and use a WordPress plugin to make it easier for us?
The difference between NoFollow and following links in SEO
All the links you put on your site are automatically followed. You can prevent them from linking only by unfollowing it. This will cause the links that have no value and credibility to be unfollowed. And in fact, with this work, that site is not given much importance. This will also help maintain your site's credibility and improve your site's SEO.
By unfollowing links, you tell search engines not to consider this link in their ranking and not to pay attention to it; and in fact, take their positive influence from it. With this, the credit of your site will not be transferred to another site. And the influence of outgoing links is lost.
You can follow a link to articles or content of your site in response to the views of your site users and follow their questions. That is, provide them with a link from your site to complete their information. This work has a high value for your site.
Unfollow links in the new WordPress editor
In the Gutenberg editor, write your own text or edit existing text.
Select or expand the desired link so that the editor displays the boxes related to the link.
Click on the "Link Settings" icon. This icon usually appears with a chain link symbol or a pen tip.
A new window will open displaying the link settings.
In this window, select the "Nofollow links" option.
Close the box and save the changes.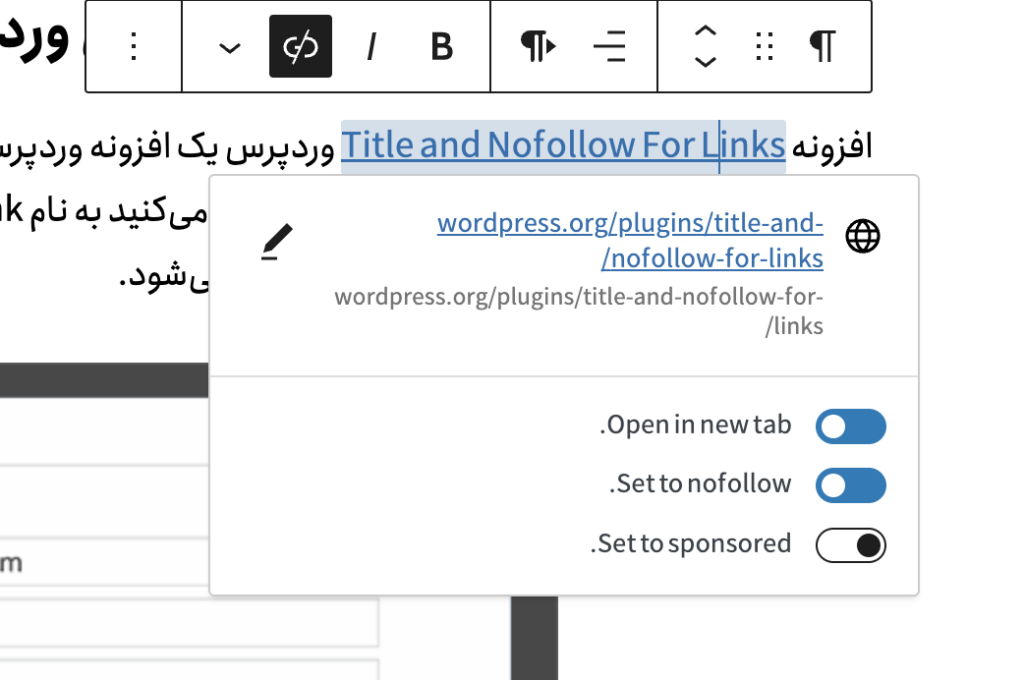 Now the link you want has been unfollowed. When clicking on this link, tracking information will not be sent automatically and search engines will consider it as a no-track link.
Unfollow links in the old WordPress editor
The Title and Nofollow For Links WordPress plugin is a WordPress plugin for this purpose. By installing this plugin, you add a new section to the linking section of WordPress content called Add rel="Nofollow" to Link, by ticking this section, the Nofollow attribute is easily added to the links.
You can easily nofollow links with one click so that you won't have many outgoing links that cause the quality of your site to drop.
Good luck.