Free logo design with professional logo making tools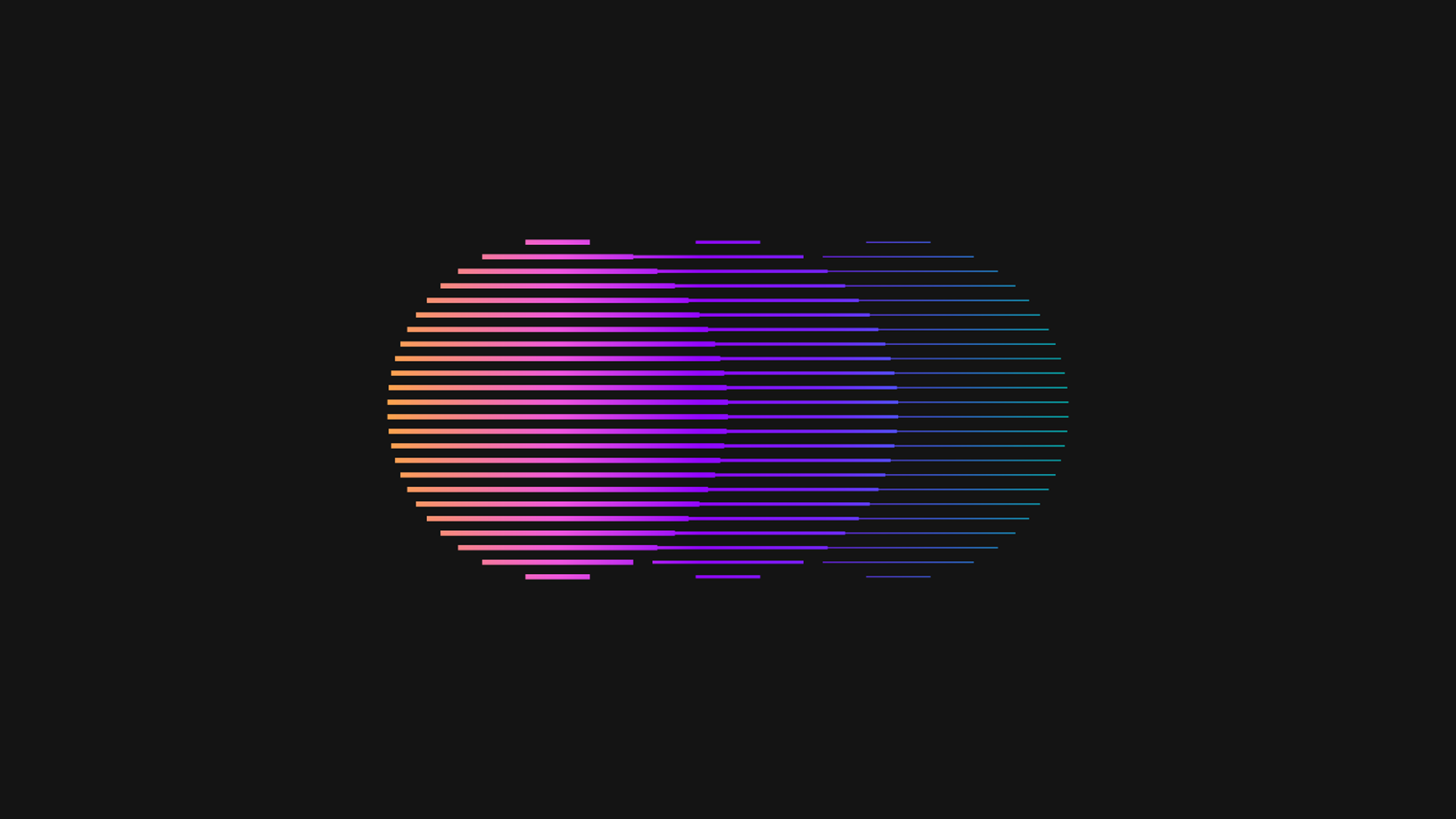 Sometimes, newly launched websites underestimate the importance of their logo and sometimes forget about it. Whether you run a huge company or have a simple blog; However, you should consider a logo for your website; your website logo indicates your brand's identity, and you should not forget the importance of this issue. Really! Did you know that you can also create your logo using free logo design services?
The logo makes your website more lasting in the user's mind, and the user can better identify your website when he sees your website logo again. Logo design can be costly for people who have just launched their blog or website; That's why today we want to introduce a tool that you can use to design a free professional logo.
Why our website should have a logo
Before we get into the logo design tool, we want to clarify why we need a logo at all and why we should design a professional logo to build our website.
The first is that you can use this logo in social networks, email newsletters, company business cards, which will make your business better known and, as a result, can significantly help the development of your website.
Also, note that the user may encounter several different websites. The choice of one of these websites is entirely based on indications to the user which website is more professional. Let me say that when a user enters a website that does not have a logo, he thinks this website is not professional and can not have full attention and trust.
Free logo design tools
But one problem is that you do not want to outsource your logo design to a person or logo design company, for which we have a solution; You can use the free tools that work in this situation, and today we want to introduce some of the best tools, so stay tuned. 🙂
Create a logo with Constant Contact
The first tool I want to introduce is one of the best websites you can use to create your business logo; You do not need to pay anything to make your website logo, and you can create and download your favorite logo without paying any costs.
The user interface of this tool is straightforward, and you do not need to do anything special to create a logo, which we will examine in this section. The first thing you need to do is enter Constant Contact's Logo Maker website and click on the box that we specified in the image below: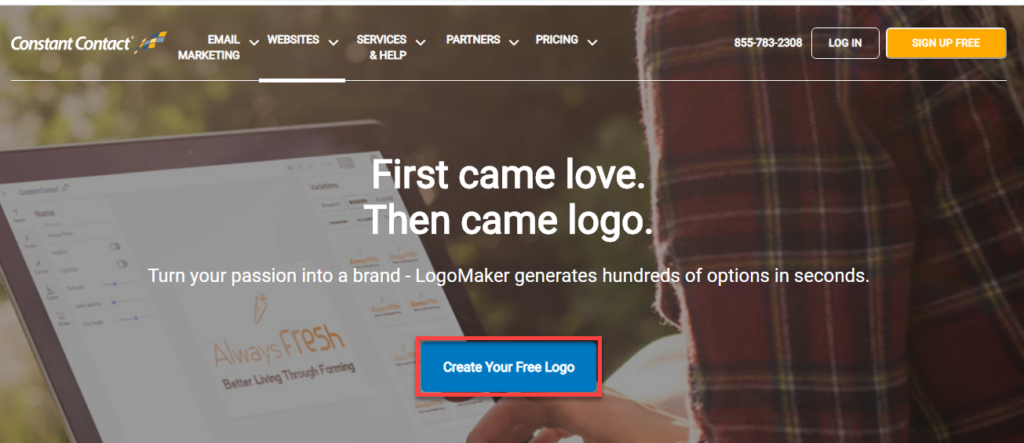 You will be taken to another page where you can see a small box on the left side of the page where you have to enter the brand name you want; for example, we entered the word "MihanWP" in this section.
Of course, in the process you are going through, you must create an account on this website, which you can use your Google account, and it won't cost you.
Logo design steps
When you enter the brand name, you can see that six different designs are displayed on the right side of the page; if you like one of these designs, you have to click on it; otherwise, you can click on "More" to show you more.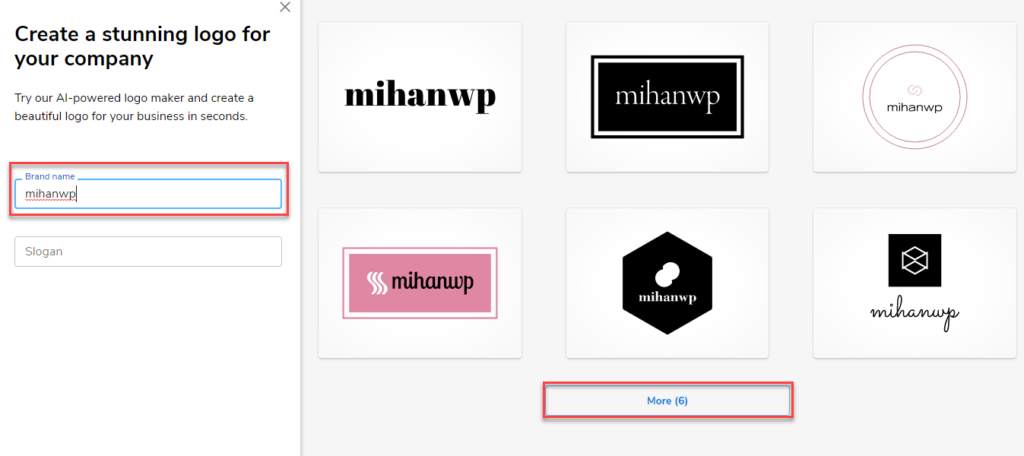 When you click on the logo you want, you will be taken to another page; on this page; you can implement any changes you want to the logo; that is, you can customize your logo.
For example, you can change the font, color scheme, symbols, and even the logo's shape and get your own approved logo; Finally, you can click on the "Download" option and download the logo.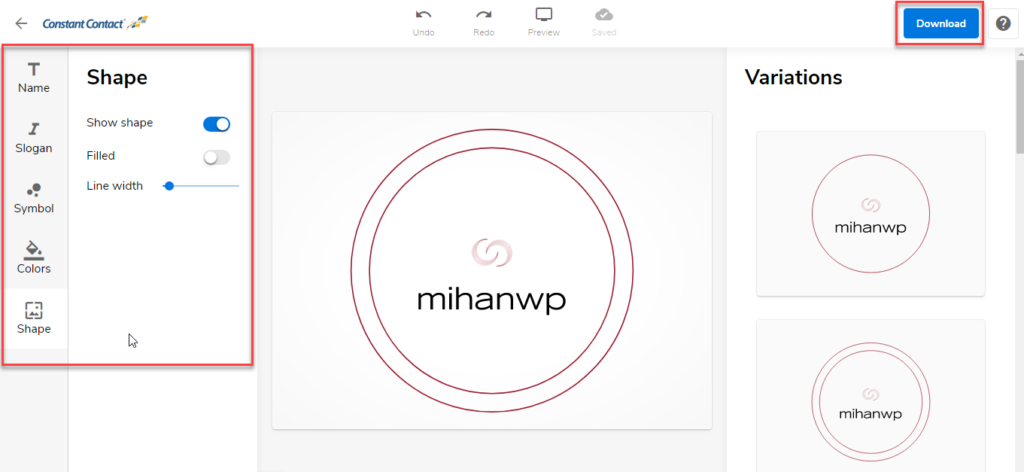 This logo is provided as a zip file that you can easily use on your website.
Free logo design with Shopify
Let's go to the second tool that you can easily design your favorite logo in it; the charm of this tool is that you have an infinite choice in front of you, and you can continue your search until you reach the logo you want.
You must first log in to Hatchful: Shopify's Logo Maker and click on the "Get Started" option to use this tool. On the new page that opens, a series of votes will be displayed that you must specify the type of your business; you must set your website's activity by selecting one of these items and then clicking on the "Next" option.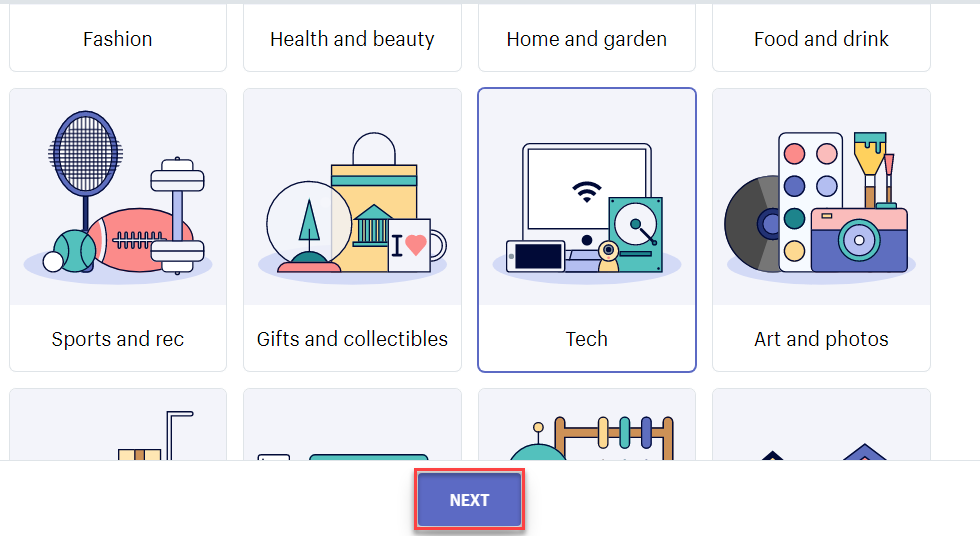 In the next step, you have to enter the type and style of vision you want; a series of different techniques will be shown to you that you can scroll down and see them all and finally select one of these items, then "Next" to move to the next step. Like the image below: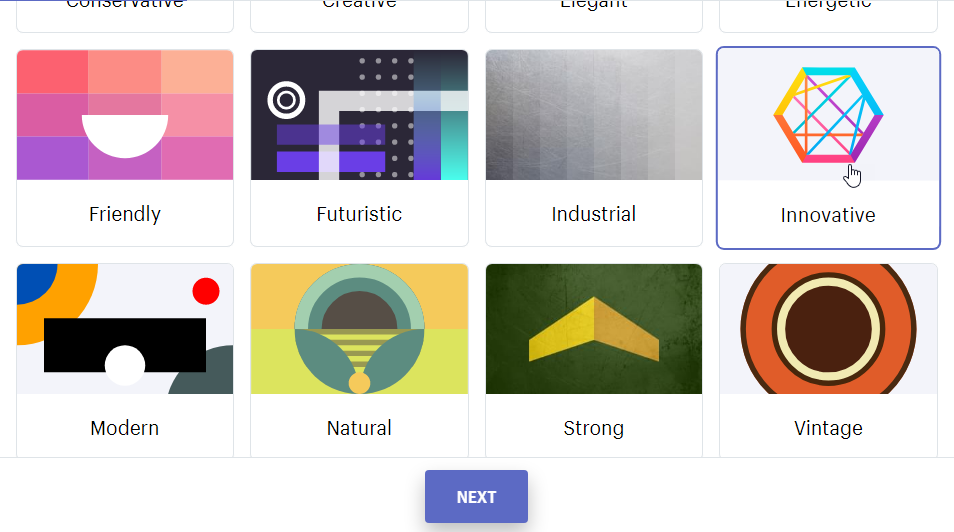 Specify the brand name
Now that you have defined your style, it is time to enter your business name and click "Next":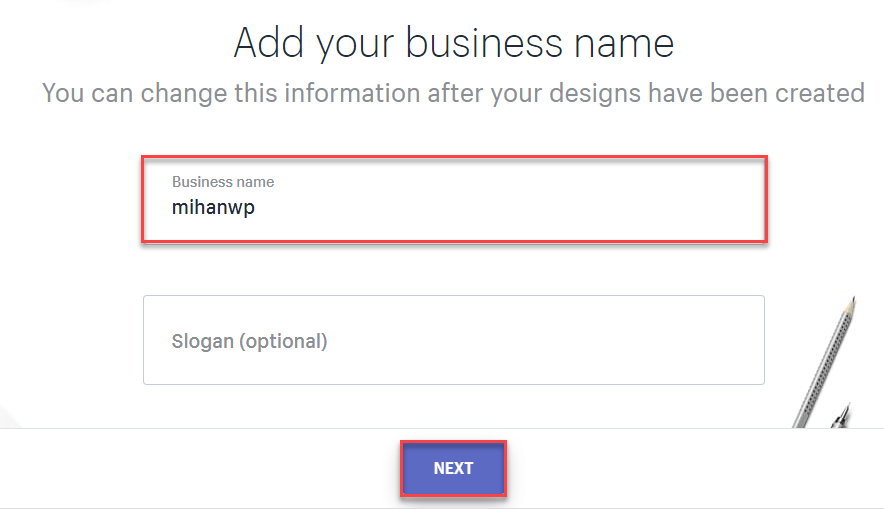 After that, in the last step, several different logos will be displayed to you, which you can choose one of them and run the customization you want on it.
Note that you have to enter your email to have the logo file you designed sent to your email at the end. Otherwise, you can not download it directly.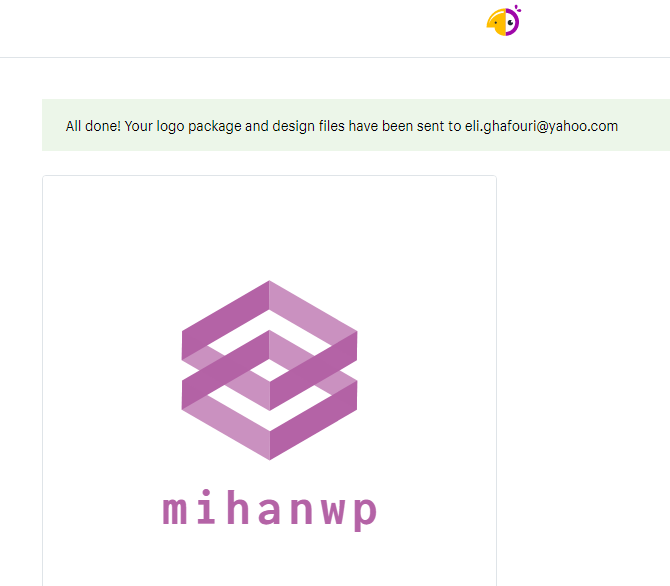 Canva
Canva is another logo design tool that you can use for free. When you enter the Canva website, you must enter your website name in the specified field below and click on the "Make Your Logo" option.
The design process on this website is the same as before, and you have to go through a series of steps to achieve your desired result. Once you have determined your type of activity, you will be given a series of logos that you should choose 5 of them according to your taste.
Finally, you can easily customize your logo using the box on the left side of the page. Like the image below: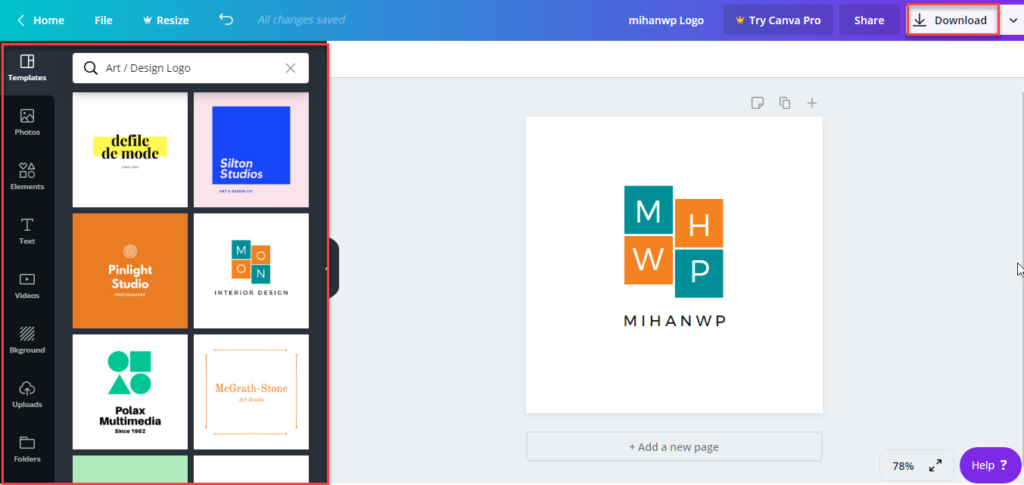 Finally, you can download the final logo using the download option and use it on your website just as easily!
Ucraft logo maker
The difference between this tool and the previous ones is that you do not see the pre-designed items on this website; you want to choose your favorite logo from them, everything on this website depends on you, and you have an empty canvas in your hands.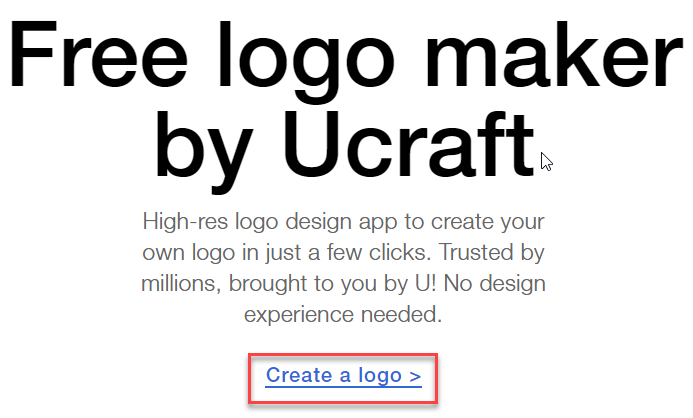 When you enter Ucraft's Logo Maker website, you have to click on the "Create a logo" option; You will then be taken to a page where you can see several choices on the left; Each of these options gives you a set of features that you can use to achieve your desired logo.
For example, you can find many icons and symbols and change their colors to your liking.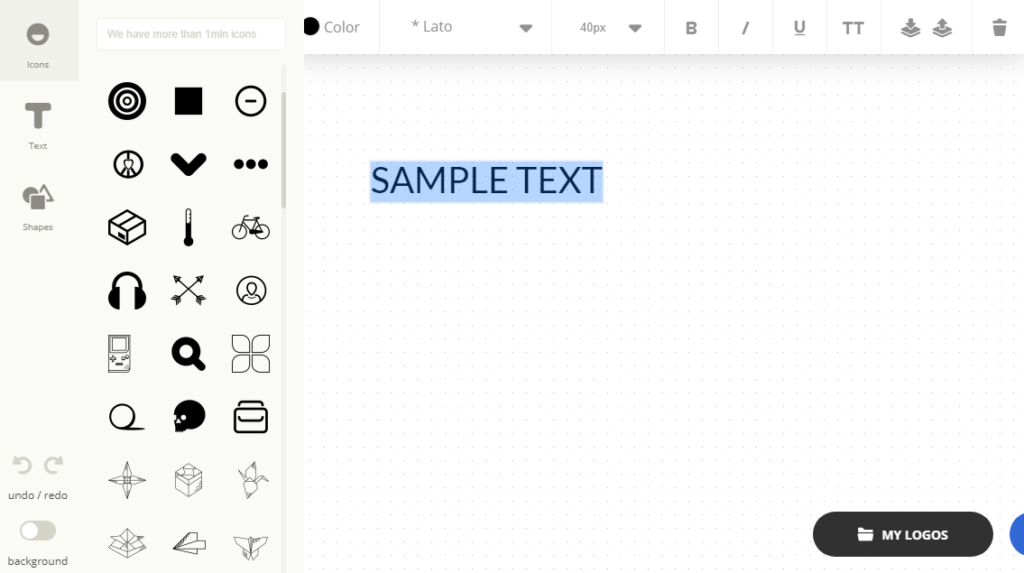 Finally, you can download it easily and use it on your website when you get to your favorite logo.
We hope you find this helpful article. be triumphant and victorious. 🙂