What is a business model and why should we implement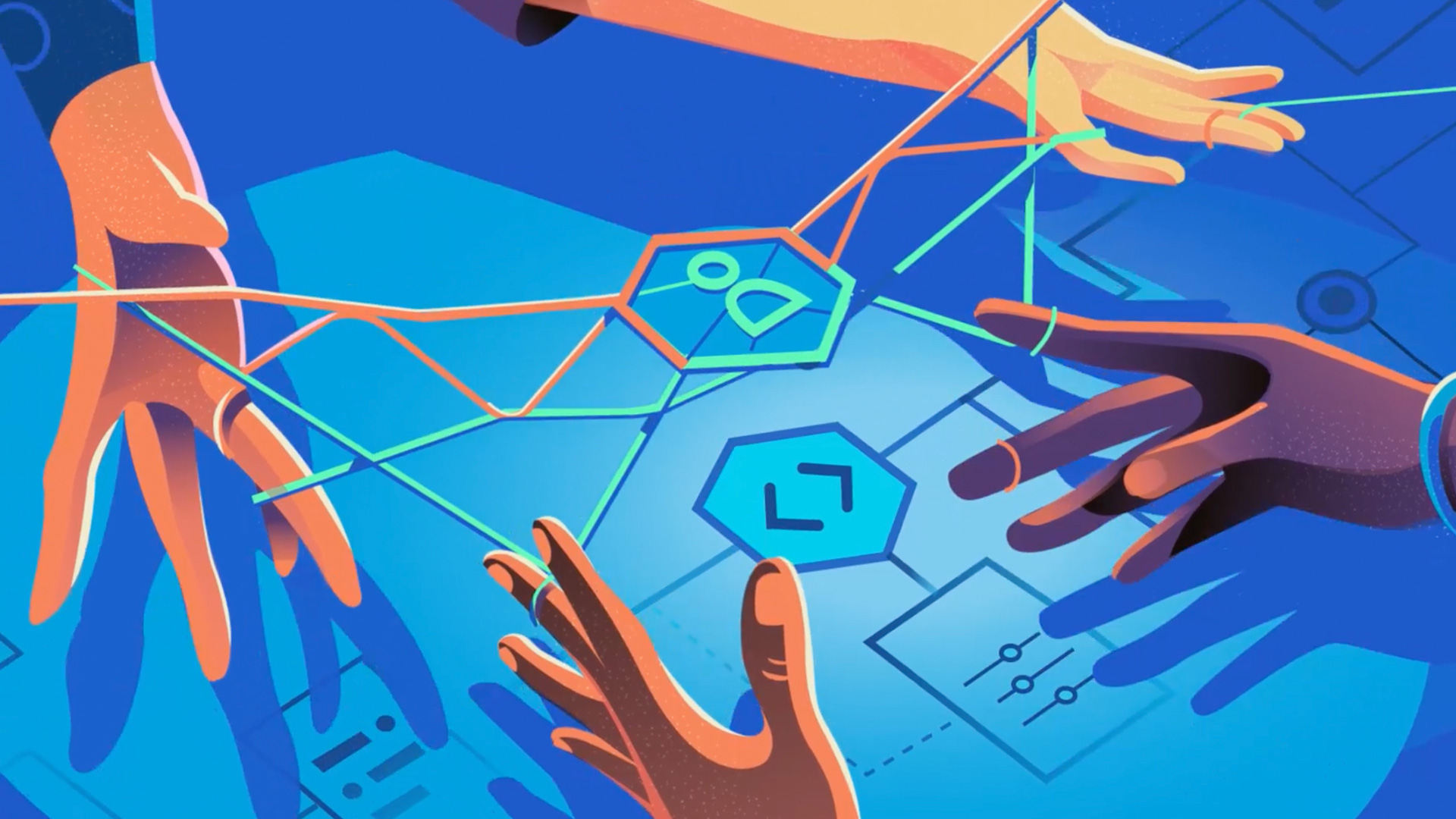 The business model in management science is a relatively new term, and in fact, it is a business roadmap. As a result, as an online business manager, you need to be aware of this. Because this way, you can create a better and more professional path for your business.
Unfortunately, one of the most important things not paid attention to these days is the business model. Many people think they can have a successful business without a roadmap and strategy. But it is a misconception that has led to many companies failing, and the majority failing.
What is a business model?
With the help of a business model, you can identify all the essential things in a business. For example, in the following section, we have mentioned that with the help of a business model; What can you specify?
Customer Segments
Customer Relationships
Distribution Channels
Value Proposition
Key Activities
Key Resources
Key Partnership
Revenue Streams
Cost Structures
Now you may ask, how does identifying these things help us? If you can write these things very well, clearly and accurately on paper; You can focus on different things and spend time much better. But if you do not specify these for yourself and proceed without an account and book; You will face various problems.
It is even enjoyable to know that many people who are just starting to start a business, after implementing the business model; In general, their opinion changes. Because with the business model, they realize that the company they are looking for does not have the necessary potential and can not generate a good revenue stream.
The difference between a business model and a business plan
The business plan concept dates back to two centuries ago and depicts a comprehensive plan with exact business details. The business plan is long-term and describes all the necessary expenses and even how to hire employees.
On the other hand, the business model is a new term in management and has emerged with the globalization of the Internet and personal computers. The business model is a short-term but essential plan that every business needs to succeed in today's volatile markets.
Types of business models
There are many business models, and we will introduce some of the most famous business models. It should be noted that there are also hybrid business models that you can choose the most appropriate model based on your needs and type of business and take a model from it.
Manufacturer Business Model
The manufacturer's business model produces and sells products and services from raw materials. Sales of products and services in this business model are made in two ways. The first method is to sell the product or service directly to the customer, But the second method is to sell as an intermediary.
Retail Business Model (Retailer)
Retailers first buy different products from different brands and then sell all the products. Walmart and Amazon are two large and well-known retail stores that follow the retail business model.
Franchise Business Model
Traces of this business model can often be seen in chain restaurants such as McDonald's and Starbucks. Franchising means giving others a franchise or representation of a successful business. Of course, a fee must be paid to receive a picture.
In this method, individuals and legal entities receive permission to use the brand name and benefit from that business's credit and loyal customers by paying a certain amount.
Fractionalization Business Model
The segmentation business model means that they do not sell all the products entirely but sell some. In this method, customers who cannot pay for the entire product pay the same amount using the same product or service.
Low-touch Business Model
Brand owners provide mediocre services for a lower fee in this business model. In the low-access model, less workforce offers assistance, and customers receive less service (usually, the customer has to do some work himself). One well-known example in this business model is the Swedish brand IKEA, where customers assemble purchased items for a lower fee.
Drop Shipping Business Model
Businesses that follow the drop-shipping model are stores where there are no products. Simply put, these sellers act as intermediaries between the product owner and the customer. Then, for the customer to register the order, they receive the goods from the supplier and send them to the buyer.
Freemium Business Model
In the Freemium business model, part of the service or product is made available to customers for free, and the customer pays to use more services. For example, most WordPress products have presented this way if you are careful. Mihan WordPress has done precisely the same thing and has provided Mihan Panel plugins in both free and non-free versions.
Business model design
Alexander Stroalder introduces business model design in 5 steps and believes that all businesses with any product and activity can use these methods to develop their business model.
Designing a business model is linear, and some steps need to go hand in hand. These five steps are as follows.
Step 1: Preparation
The most essential and primary step in designing a business model is determining the purpose, nature, and mission of business activities. Examining the initial ideas and forming a team to work together to achieve common goals is another thing that happens in the first stage.
Step Two: Recognition
At this stage, to find a deep understanding of the business environment, you need to study, research, and talk to experts. The team formed in the previous stage can obtain helpful information about the business environment by studying the behavior of competitors and getting help from customers.
Step 3: Design
In the third stage of designing a business model, individuals must develop ideas to achieve the best model. Now it's best to test the concept with the help of customers and experts before deciding to finalize the business model.
Step 4: Implementation
After completing the design phase and reaching the final design, it is time to implement the plan. This step has no specific explanation, and you only need to implement the previous step (i.e., business model design).
Step 5: Management
After implementing the plan, all successful businesses continuously manage the implementation process and evaluate the model. The model can be adapted based on market needs and reactions and changed with continuous evaluation.
Business Model Canvas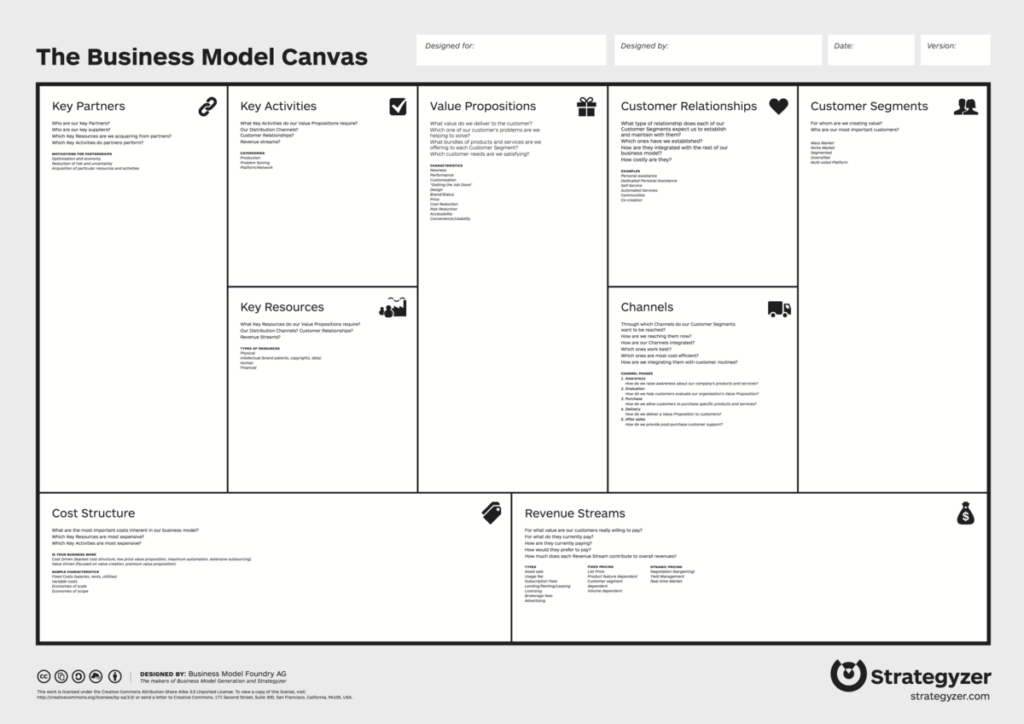 There are several templates for designing a business model, but one of the most prominent business model design templates is known as the Business Model Canvas. Alexander Osterwalder first coined the term business canvas in creating a business model. Because of its practicality, it has attracted the attention of many people around the world.
The business canvas has a framework consisting of two parts: the left, the right, the left represents the costs and core business space, and the right means the business revenue and customer issues.
The business canvas consists of 9 sections, each representing a part of your business. These sections are like pieces of a puzzle, and when completed, you will see a picture of the future of your business. The main parts of the business canvas include the following.
Customer Segments
This section is critical, and you have to answer questions such as "Who are our customers" and "What do they expect from our products and services."
Customer Relationships
This section examines ways to attract customers from brand familiarity to sales and after-sales service. Issues such as how to communicate with customers and their satisfaction and their impact on the continuity of customers' purchase of products; are planned in the customer relationship department.
Distribution Channels
Distribution channels determine the means of communication between customers and the business. That is, how to deliver the value proposition to customers. To gain the trust of customers; Do you use a site, application, or virtual network?
Value Proposition
The value proposition section identifies what value our products and services bring to customers and what problems they solve for them. You have to answer the question "why should customers buy our products and services."
Key Activities
The most essential and fundamental part of the business environment is the key activities that significantly impact creating value and delivering it to customers and should not be underestimated.
Key Resources
The main question in the essential resources section is what resources are needed to achieve the business goals and how these resources are provided.
Key Partnership
Raw material suppliers, sales and marketing consultants, and financiers are critical partners in a business, and decisions need to be made about working with them.
Revenue Streams
The income stream determines how the business generates revenue. For example, is selling the only way to make money, or are there other ways to make money?
Cost Structures
All the costs required to implement the business plan are determined and reviewed in this section.
Total resulting
If you are thinking of starting your own business, if you are already an internet business owner (which you certainly are) and thinking about developing and growing your brand; One of the most critical steps in the success of your business is to design a business model. Without a proper business model, there is a possibility of capital failure; So the best way to avoid disappointment is to allocate the right amount of time to design a business model for your business.