8 Best WordPress Webinar Plugins in 2022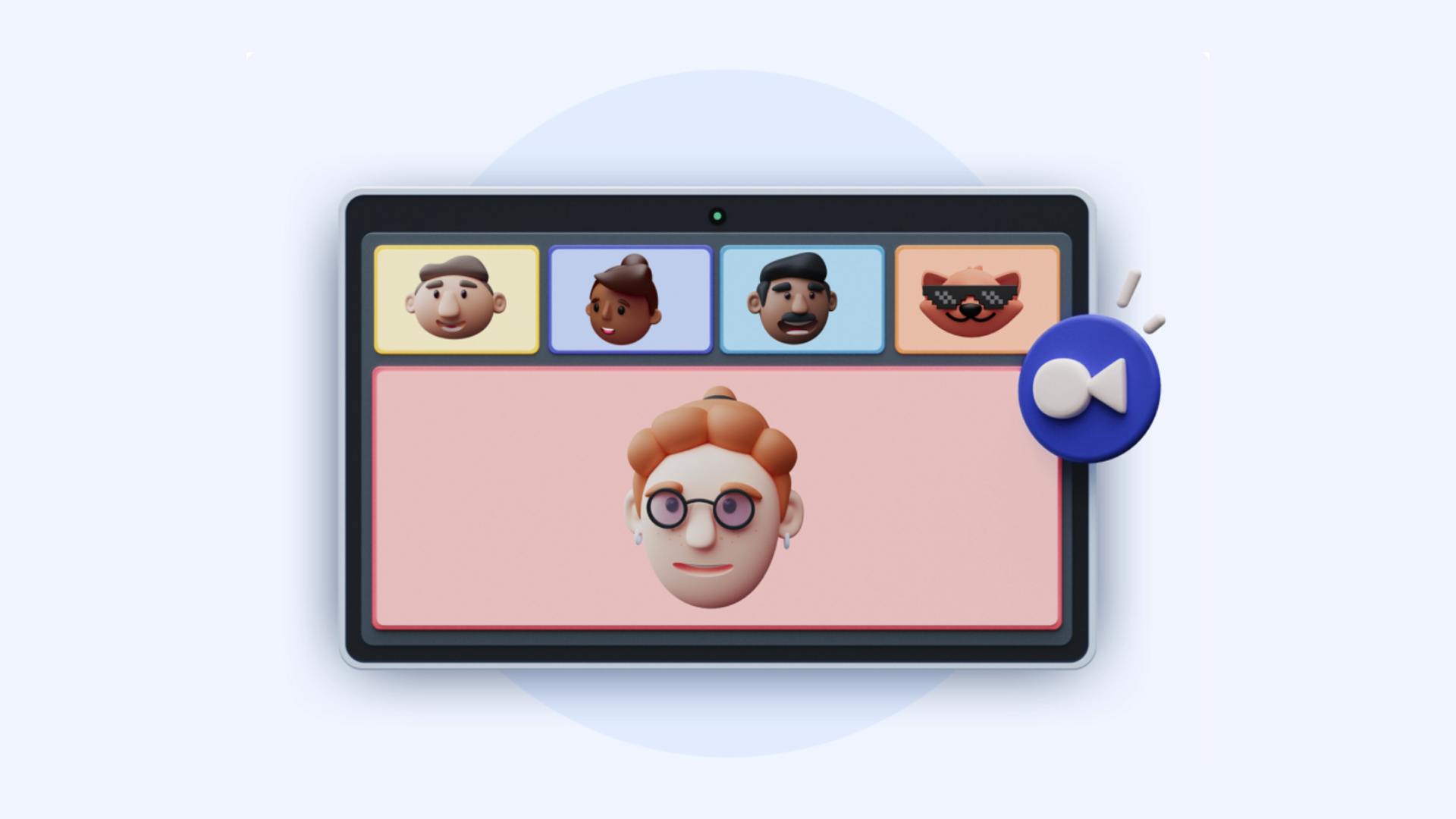 Imagine hosting webinars and online classes on your website with a webinar plugin in WordPress! WordPress is one of the best tools that can be used to launch a website, but WordPress websites, despite their many advantages, can not host webinars or live. However, there are many plugins that you can install on your WordPress website and host webinars in WordPress.
WordPress Webinar Plugins
This article will review eight plugins for hosting webinars in WordPress, evaluate their advantages and disadvantages, and teach you how to install and set up one of them. So stay tuned for the rest of this article.
Plugins are a series of programs installed in WordPress and add features and capabilities to WordPress. For example, WordPress cannot host webinars or live, but you can enable webinars to your WordPress site through free and non-free plugins. Or, for example, you do not like to use the default user panel and eCommerce and install a dedicated user panel plugin.
What is a webinar and how to host a webinar in WordPress
A webinar is a class, seminar, and online course held on the web. Put, webinars or live events are those that create an interactive, two-way online relationship between the webinar organizer and its participants at a specific time. The advantages of the webinar include the following:
No need to be in a particular place: To attend a webinar Participants can attend a webinar without having to be in a specific place at home, at work or wherever they are, using only a laptop, tablet or even a smartphone.
Save time and money on the place: Since you do not need to go to a specific place for a webinar or online class, so there is no need to pay for going to and from the class. It becomes. It also saves you time by not being physically present in a particular place.
Access to the webinar video: Most of the people who host the webinar can record it during the webinar so that the participants can use it later.
Possibility of advertising and earning money: You can present your skills and expertise to others by holding a live webinar, and finally advertise your skills, expertise and training and earn money.
The best webinar plugin with WordPress
Now that we are familiar with the webinar and its benefits. In this part of the article, we will introduce 8 WordPress webinar plugins.
Video Conferencing with Zoom plugin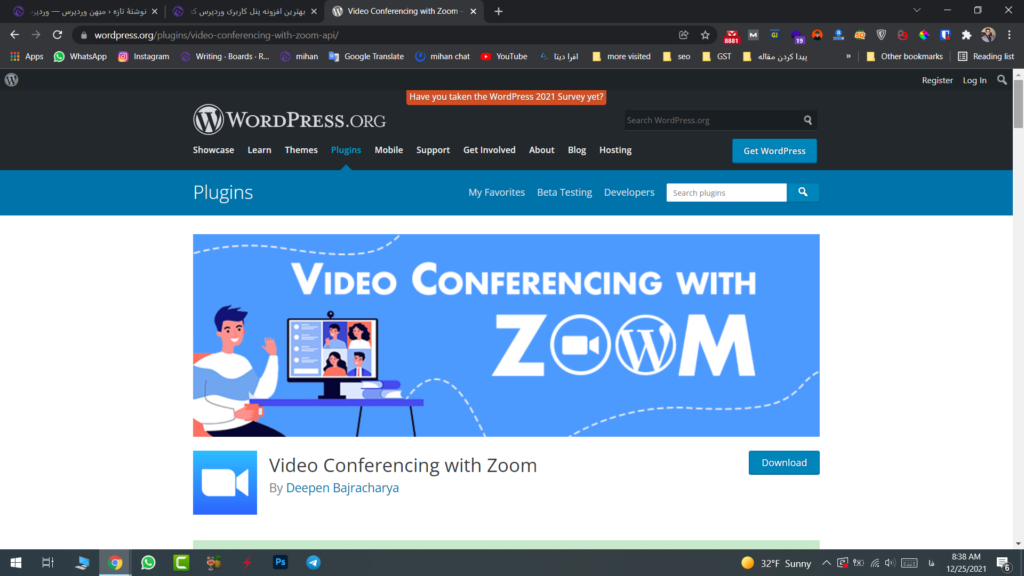 Video Conferencing with Zoom is a webinar plugin in WordPress. This plugin is an API for Zoom heavily used for conferences and webinars during the Covid days. Another very positive feature of this plugin is that this plugin can easily communicate with the WooCommerce plugin. If you want to sell your webinar to customers, after depositing money by customers, it does the process of locking and accessing the webinar for your customers.
Other features of this plugin include the following:
Gutenberg support
Support for Elementor Creating periodic meetings and webinars
Countdown timer
Compatibility with LearnPress
Compatibility with LearnDash
Access to plugins such as WooCommerce forms
Daily account report
WebinarPress plugin
Another webinar plugin is the WebinarPress plugin. Installing and using this plugin is free.
This plugin as a webinar plugin in WordPress gives you the ability to easily connect with servers such as YouTube or Vimeo and invite your users and audience to live.
Other features of this plugin include:
Build and display online courses
Responsive user interface
Reminders of programmable emails
Registration confirmation page
Online class page layout
Countdown timer
Ability to chat
Create a private chat
Ability to ask questions in the Ask section
List of participants in the text or file
ClickMeeting plugin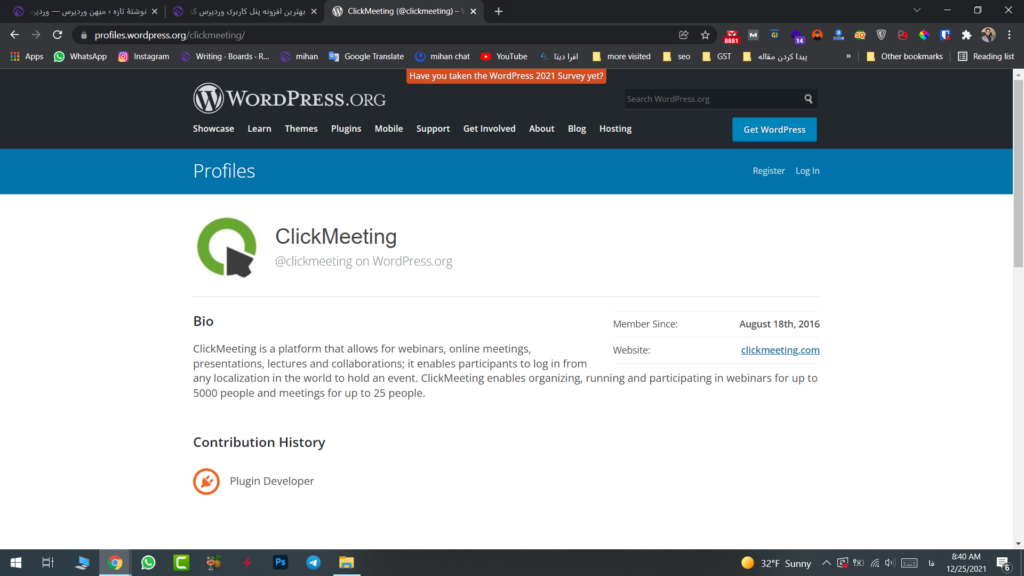 ClickMeeting is a webinar plugin in WordPress. This plugin is viral for building online training courses.
Other features of this plugin include:
Has a whiteboard
Has a video conference room
Has the ability to survey users
One month free
Play video on Facebook or YouTube
This plugin connects to the Click Meeting website and uses this website to host webinars.
WebinarJam website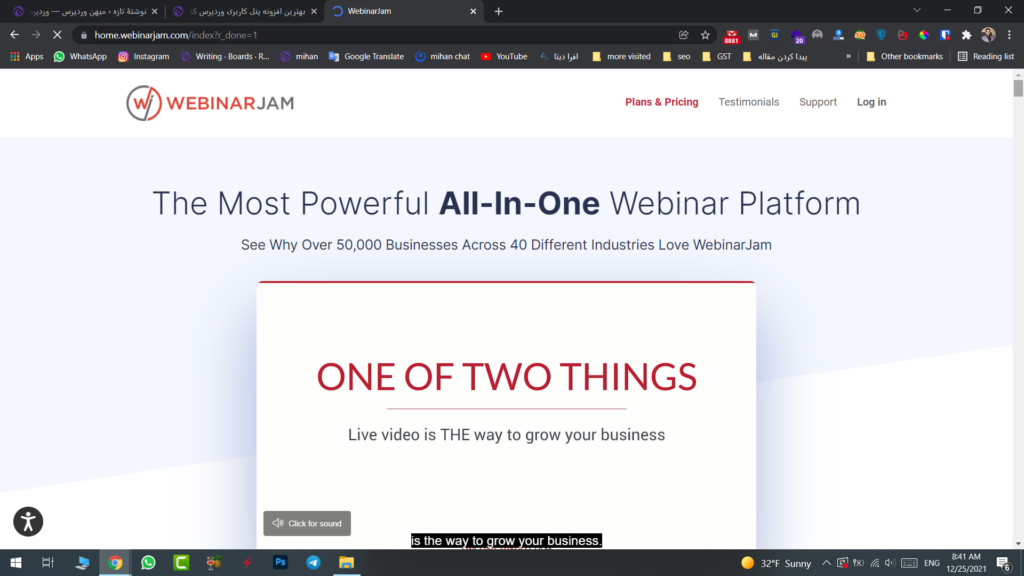 WebinarJam is a website for hosting WordPress compatible webinars through which you can distribute your webinars with high quality and resolution.
Features of this website include the following:
Compatible with all devices such as laptops, smartphones and…
Compatible with all operating systems such as Windows, Linux and…
Ease of working
Ability to import PDF, PowerPoint or Keynote files in the webinar
Ability to draw and mark on the pages for highlighting
EasyWebinar plugin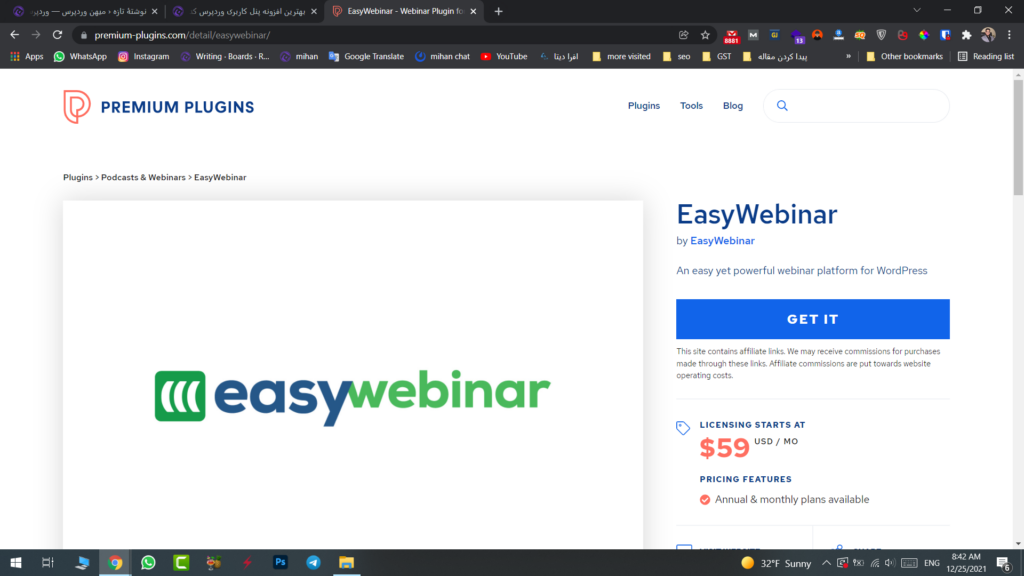 EasyWebinar is one of the most influential and excellent plugins for webinars in WordPress. This plugin can be integrated with Active Campaign, Convert Kit, Mailchimp, and Drip. You can interact more with users by using the unique features of this plugin.
Other features of this plugin include:
Use real voice audio technology
Ability to hold using multiple providers simultaneously
Ability to share files and screensavers for users
Very high quality in playback
Has interactive tools
Ability to play live on multiple social networks
Ability to send notifications via email
Provide live suggestions to webinar participants
Provide detailed reports
Of course, this plugin is not free, and you have to pay to use it.
WebinarIgnition plugin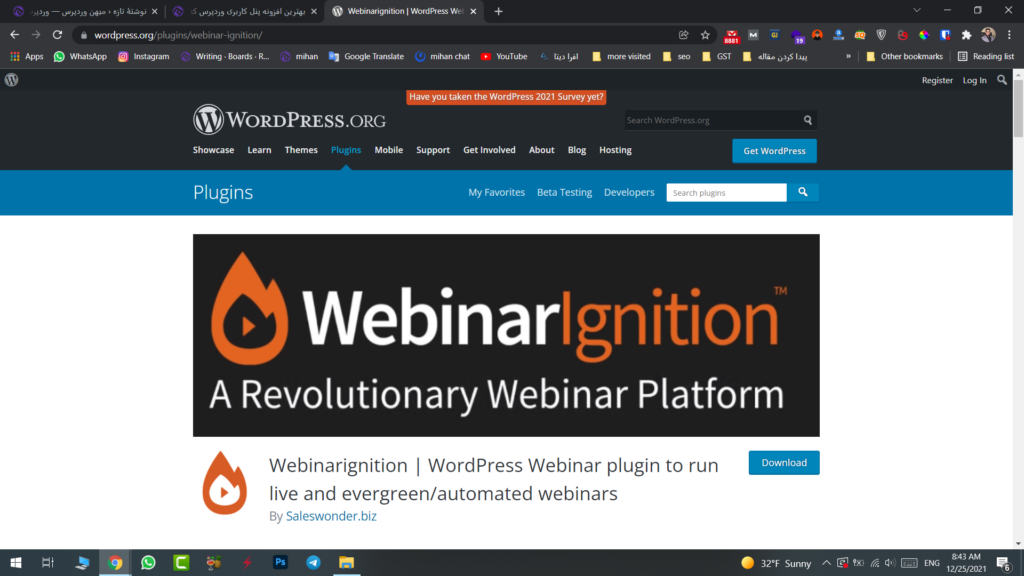 WebinarIgnition plugin is one of the best webinar plugins in WordPress. This plugin has professionally designed patterns that allow you to choose the color palette, your brand, and more. This plugin is easily compatible with YouTube Live services to attract more users and viewers.
Other features of this plugin include:
Ability to chat
Has a powerful dashboard and panel
Manage and report on user behavior and interaction
Has the ability to remind by email
Has a reminder section via SMS panel
Register via Facebook login
Social sharing options for viewers
Options to earn money and use multiple payment gateways
It has a countdown timer
Ability to sync with Outlook
Skyroom WordPress Plugin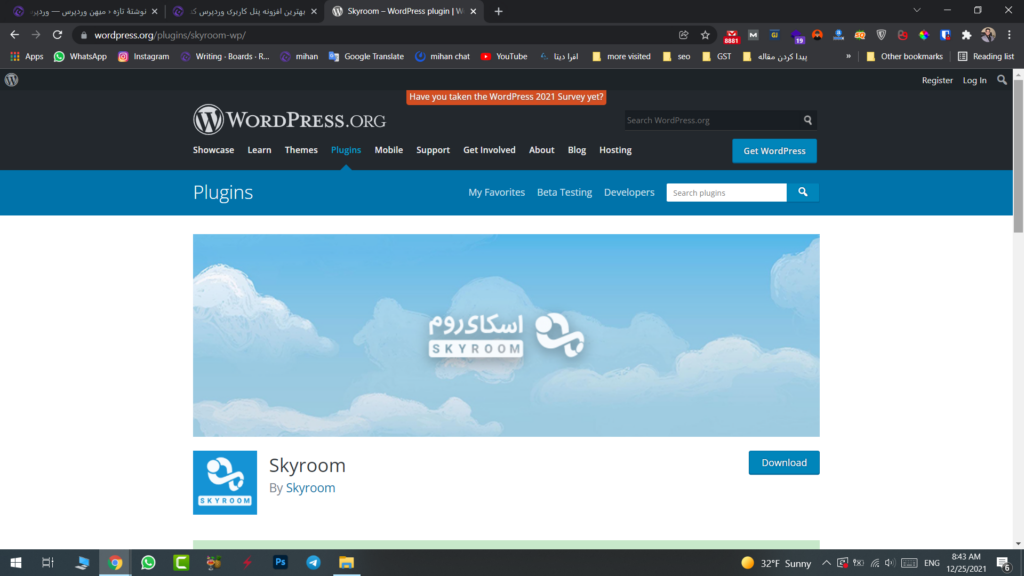 Skyroom plugin is one of the webinar plugins in WordPress designed for Iranian websites. This plugin is one of the most popular webinar plugins in WordPress.
Features of this plugin include the following:
Possibility of holding visual and audio communication
Ability to establish two-way communication between users and the webinar organizer
Ability to share the screen
Has a whiteboard
Ability to play audio and video files
WpStream plugin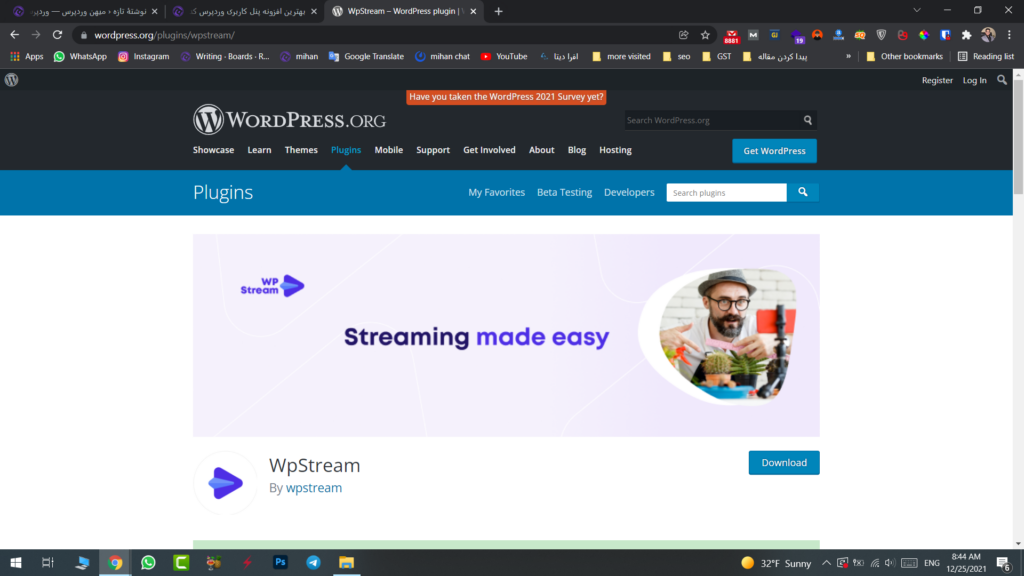 WpStream is a plugin with different capabilities for hosting webinars or live on WordPress websites.
Features of this plugin include the following:
Has a fast and easy user interface
Ability to create live streams in WordPress directly through your browser
Suitable for mobiles and tablets
Compatible with all browsers
Compatible with all operating systems
Ability to record webinars
Compatible with Mentor and WPBakery
Above, we introduced several webinar plugins in WordPress, and in the continuation of this article, we will install and activate the WpStream plugin.
How to install a webinar plugin in WordPress
First, go to the WordPress site admin counter and click on the Add option from the plugins section.
Then type the word WpStream in the search field. After that, the desired plugin will be displayed, so click on the install option.
After installing the plugin, click on the Activate option. After activating, a section called Free Live Channels / Free Videos will be added to your WordPress counter, then click on the Free Live Channels / Free Videos option and click on the Add option.
Then enter a custom title and text for the post where you want to put your live stream.
Before clicking on the Publish option, scroll to the bottom of this page and click on the Free Live Channel – encrypted streaming & copy protection option. Then click on the publish option.
A new box will be added on the left, which you must click on the START LIVE EVENT option.
After a period of one to two minutes, by clicking on the GO LIVE FROM BROWSER option, you can start your webinar.
Clicking on this option will open a new page to start the webinar. Be sure to enable WpStream access to your webcam on this page, as shown below.

Conclusion
In this article, we examined what a webinar is and its benefits are, and then we introduced you to some plugins for hosting webinars in WordPress and reviewed the features of each of these plugins. Finally, we showed you how to activate and install one of the plugins.
I hope this article was helpful for you.