Best WordPress eCommerce Template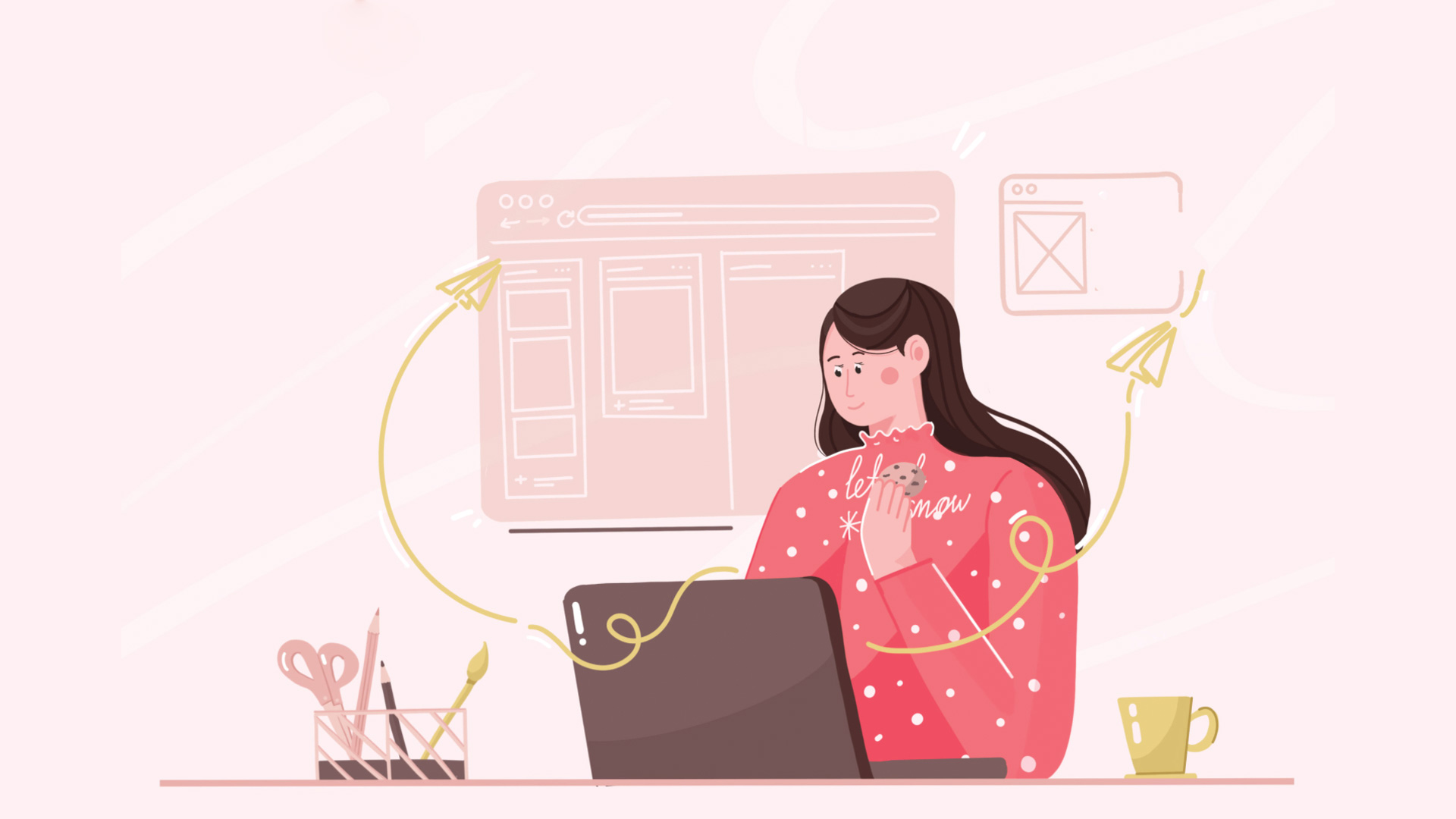 If you plan to start an online store, you will need a website to put your products and sell them. The first step in launching a site is to choose a suitable WordPress template for your website. This article will introduce the best WordPress eCommerce templates for setting up an online store. So join us.
Best WordPress eCommerce Template
Choosing the suitable WordPress template for your website depends on many criteria. There are currently several thousand WordPress templates available to build your website. But before choosing a template, you need to specify the subject of your activity. For example, you need to know exactly where you want to start and set up your online store. Once you have defined the topic of your website, you can more easily and better choose the appropriate template for your website because each template has different features and can affect your choice.
As you know, there are free and non-free WordPress templates. In most cases, non-free templates have more capabilities and features than free templates. For example, paid templates support higher speeds, have much better SEO, and are more potent in design and customization. It is even easier and more user-friendly to work with paid templates.
Choosing the Best WordPress eCommerce Template
Upload speed
According to Marketing Dive, if your site takes more than three seconds to load, it will cause more than 50% of users to leave the website. Therefore, website loading speed is one of the essential criteria for choosing a template that special attention should be paid to. The website's loading speed affects the experience of the user interface of the website, and a low rate hurts the SEO of your website.
Responsive design
According to Sweor, displaying the site on mobile is very important. This is because 85% of people who shop from the website believe that how a website works on mobile is more important than the desktop. As a result, if your site is not responsive, you will lose a lot of customers. Even the responsiveness of a website has a significant impact on SEO. That is why responsive design in a template is essential, and you must pay attention to this issue when choosing your website template.
Security features
The security of a website is essential for all users, and the website administrator should pay special attention to this issue. Templates are different in terms of security, and when buying, be sure to check this issue and then select the template. Website security has a significant impact on user trust, and if your site is weak in terms of guarantee; It causes you to lose a lot of customers, and you can not gain the confidence of users to purchase from your website.
Choosing the best eCommerce template
There are different WordPress store templates, each offering additional capabilities and features. This section will get acquainted with various kinds of WordPress store templates.
Responsive: A responsive template makes your website and store look and display compatible with any device, including mobile and tablet.
Multipurpose: Multi-purpose themes can be used for any store, including clothing, mobile phones, home appliances, electronics, etc.
Corporate: If you are the business manager, these corporate templates are for you. You can quickly introduce your business next to your store. These templates are relatively flexible and of better quality.
Ahura WordPress Template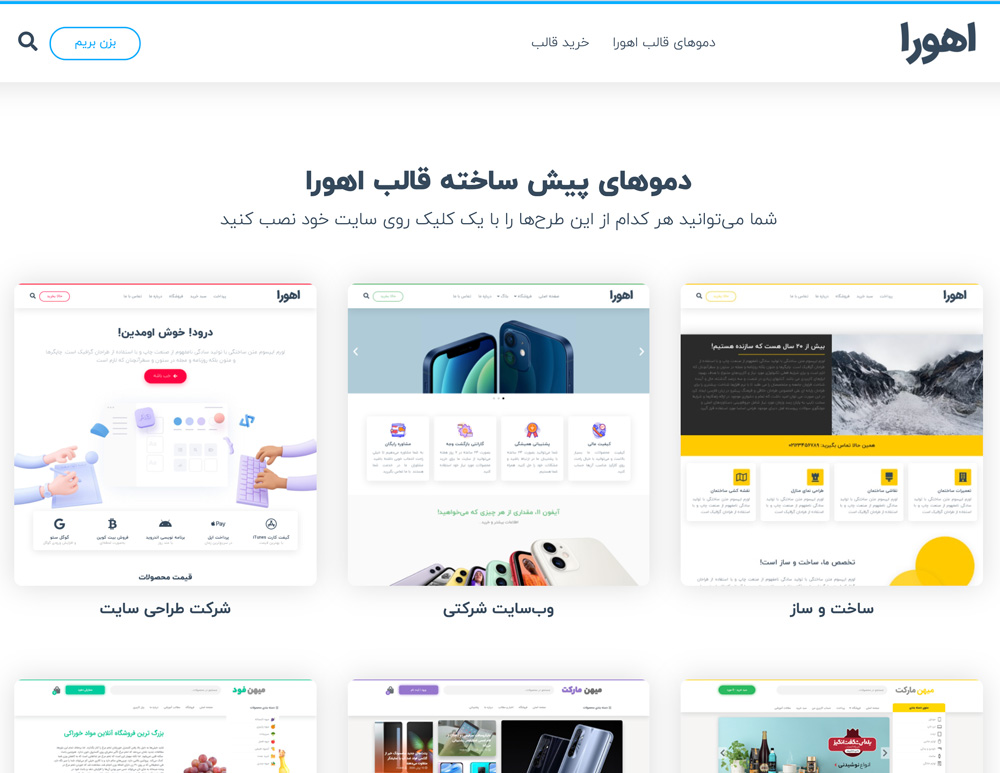 Ahura is the most complete and best Iranian WordPress template that you can easily use to create an online store, company, magazine, and even personal website. Ahura template has twenty pre-designed demos that you can install in just a few clicks in five minutes. Thanks to the Elementor page builder, you can design a beautiful, stylish, and user-friendly website without even a single line of code.
Ahura WordPress template is fully responsive and displays well on mobile and tablet. Fully compatible with WooCommerce and Easy Digital Downloads. It has a fantastic product filter and sales section that makes your website more attractive to users. It is completely optimized for SEO and has a very high speed. We suggest you use the same powerful template that has been designed and programmed by the Mihan WordPress team from the ground.
In our opinion, Ahura is the best WordPress eCommerce template. Not because this template is sold on our website. Because we have spent several years designing and optimizing the Ahura template!
Astra Theme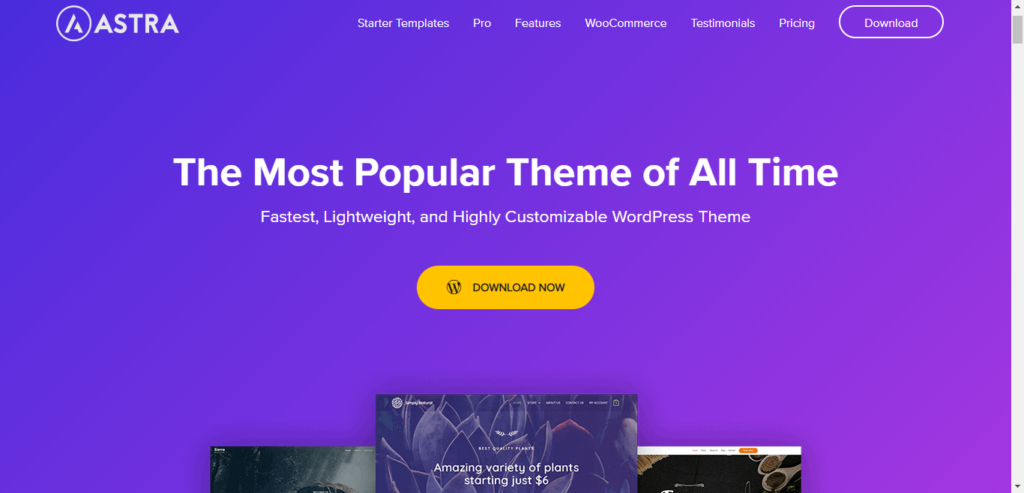 Astra is one of the most popular WordPress templates that you can use to design any website. This template supports various page builders such as Elementor well. Astra template has two free versions and Pro, the accessible version that can be downloaded and installed from the central WordPress repository. In the Pro version of this template, you will be given many more capabilities for website customization. Astra Pro template gives you features like a custom header, footer, and even a 404 error page.
Divi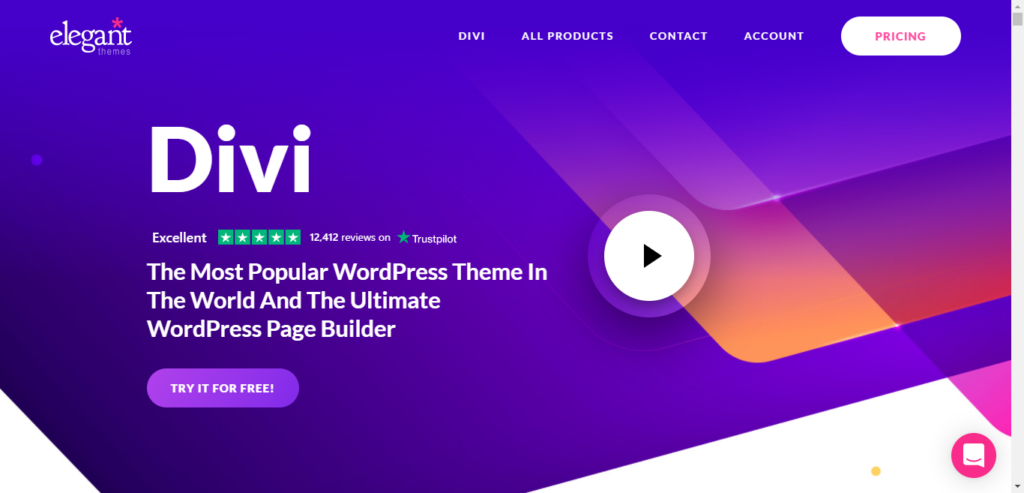 Divi is a multi-purpose template that you can use to build any website. This template has a clear page layout, making the design much more accessible. Divi Builder allows you to design and edit pages live by dragging and dropping the mouse. Powerful features of this template include responsive design, advanced code editor, powerful page layout, simple design, ready, and various designs.
Flatsome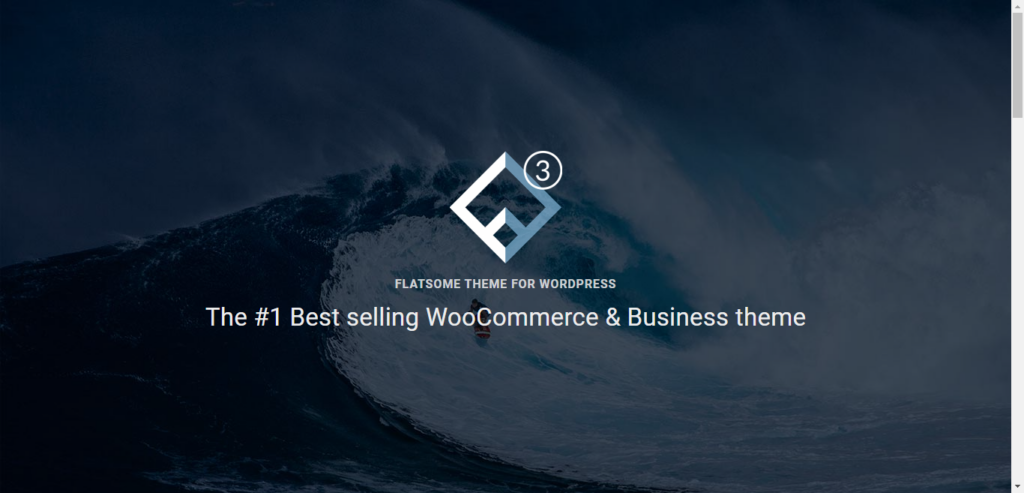 Using the Flatsome template, you can easily design your website. This template has a robust custom page layout that makes the website and store design easier for you. It also has many pre-designed pages that will save you time, and you will design your online store with just a few clicks in a short time. Flatsome template is compatible with the WPML plugin, and you can make your website multilingual.
OceanWP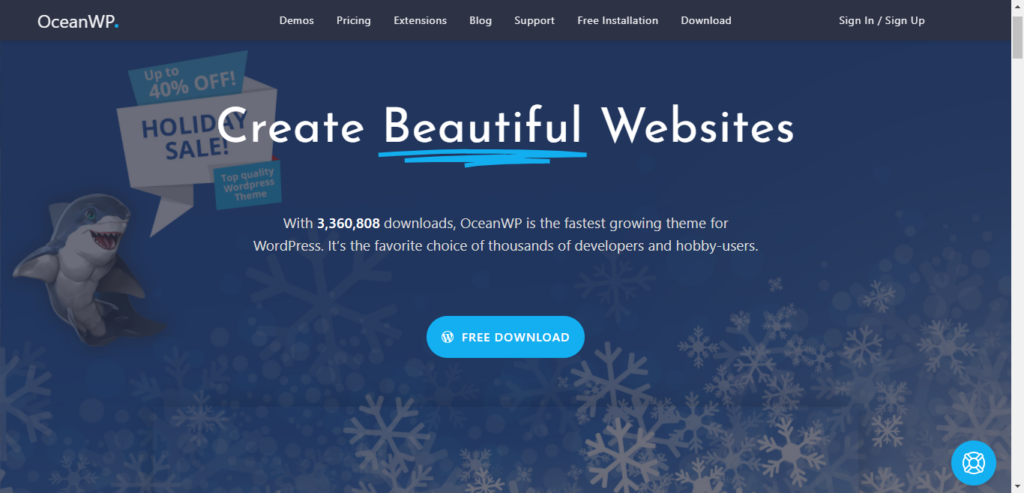 This template is one of the best WordPress eCommerce templates with the high page loading speed, SEO based, compatibility with the best and most helpful page builders. Its translation makes it superior to other similar templates. This template has a pop-up window, and when a visitor adds a product to their shopping cart, it is quickly noticed, and this section increases the visitor-to-customer conversion rate by an average of 8%.
At the top of this template, a floating bar provides users with easy and 100% access to the shopping cart without any hassle, increasing your customers by 5%. OceanWP allows you to view more details using the hover window without opening a new window using Quick View. This template scores high due to its high speed. Another feature of OceanWP is that it provides users with live versions of the product and better understands it. Another part of OceanWP is that it allows users with live performances of the product and gives them a better understanding of the products.
Porto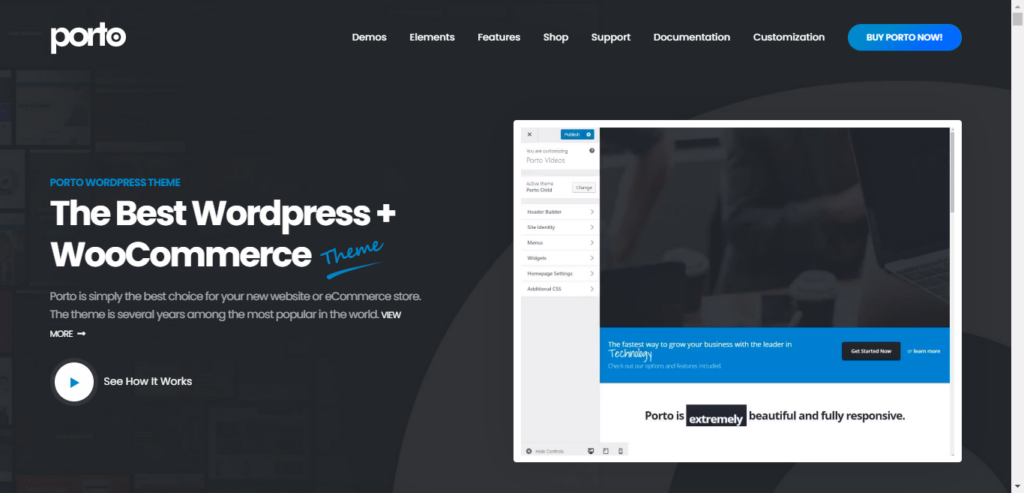 This template comes with a unique store design and more than 20 demos. Many of Porto's plans are similar and may not be interesting to you. However, this template provides you with a clean, tidy, and suitable website for any store. You will tailor your website to what you are selling and match it to your brand. You have customizable tabs, quick product displays, and what you need to highlight your list; You have. Porto shows six different versions of your product details and provides users with detailed product information.
This template has an extensive library of files and visual support to help you get started. Porto pays attention to your website with its unique SEO settings when converting visitors into customers. Also, because of the organized theme of your website, users prefer to stay on your web store. And finally, with this template, you can easily display the best image quality.
Shopkeeper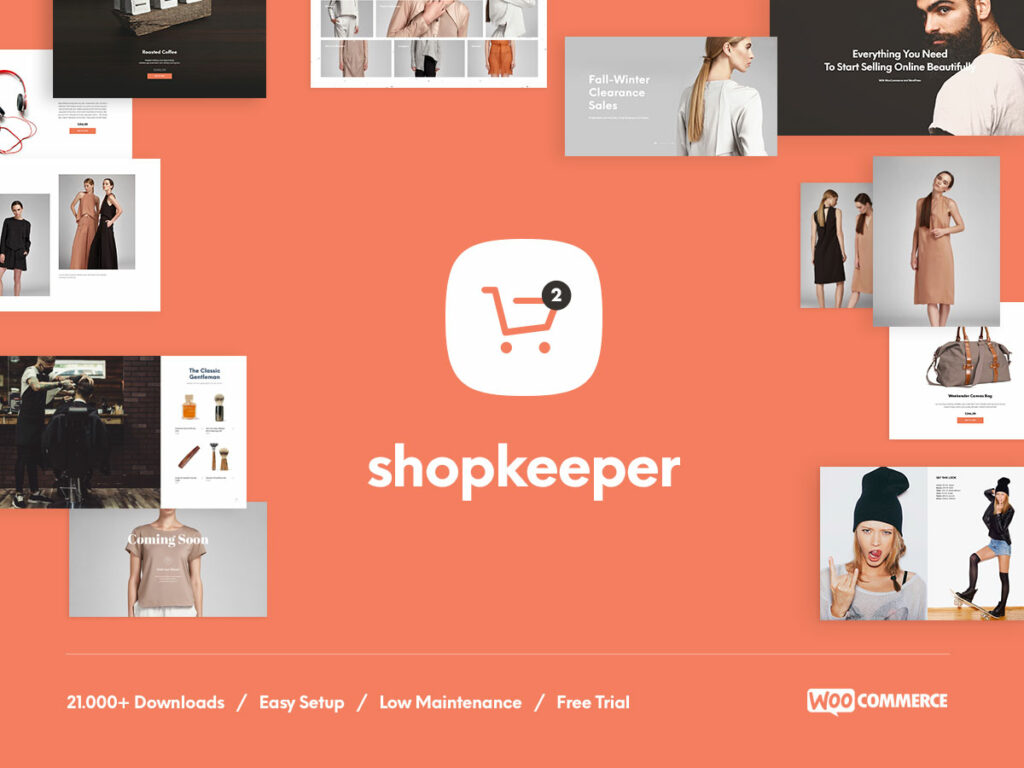 The focus of this template is on converting visitors into customers and increasing your sales. With spreadsheets and long-term content, reviews, images, and related products, what it takes to attract customers you have. The shopkeeper is suitable for beginners or people who do not want to spend a lot of time designing their website. This template has ready-made designs for the main page and separate pages of your products, so you no longer have to worry about coding.
Constant updating of the website increases its quality. You can create a good environment and add light and valuable features to your website by using the page builder and dragging and dropping the mouse. When you use the ShopKeeper template; You can quickly turn off or disable shopping for a moment. In this case, your website is still active, and users can use your products and descriptions, just like any other time. Finally, it can be said that this store template, with fast loading and functional design, provides you with the basis of a quality store.
Helena
Today, the minimalist style is simply the most up-to-date and sometimes the most popular among users. This template can be convenient and valuable for someone who wants to follow this theme. Halena has many ready-made molds. So if you're going to strengthen your website, you do not need to work hard or a lot. While following a simple and minimal design style, this template features such as high display speed, product display options, shopping cart, and tracking of accounts and orders come to your attention. Halena is indeed a ready-made template, but you still have to change in many different areas, such as pricing tables, important counters, and button types.
Conclusion for choosing the best WordPress e-Commerce template
No store template alone completes a store website, but you should choose the best WordPress eCommerce template and the most suitable option for your website based on your products and preferences. To select the best template, in addition to the customer experience, consider your own experience and pay attention to it. A template can create or quickly destroy your online store. So you are the one who has to create a successful and quality website with your correct and appropriate choice and carefully and thoroughly examines each feature.