Best WordPress booking templates – One crucial point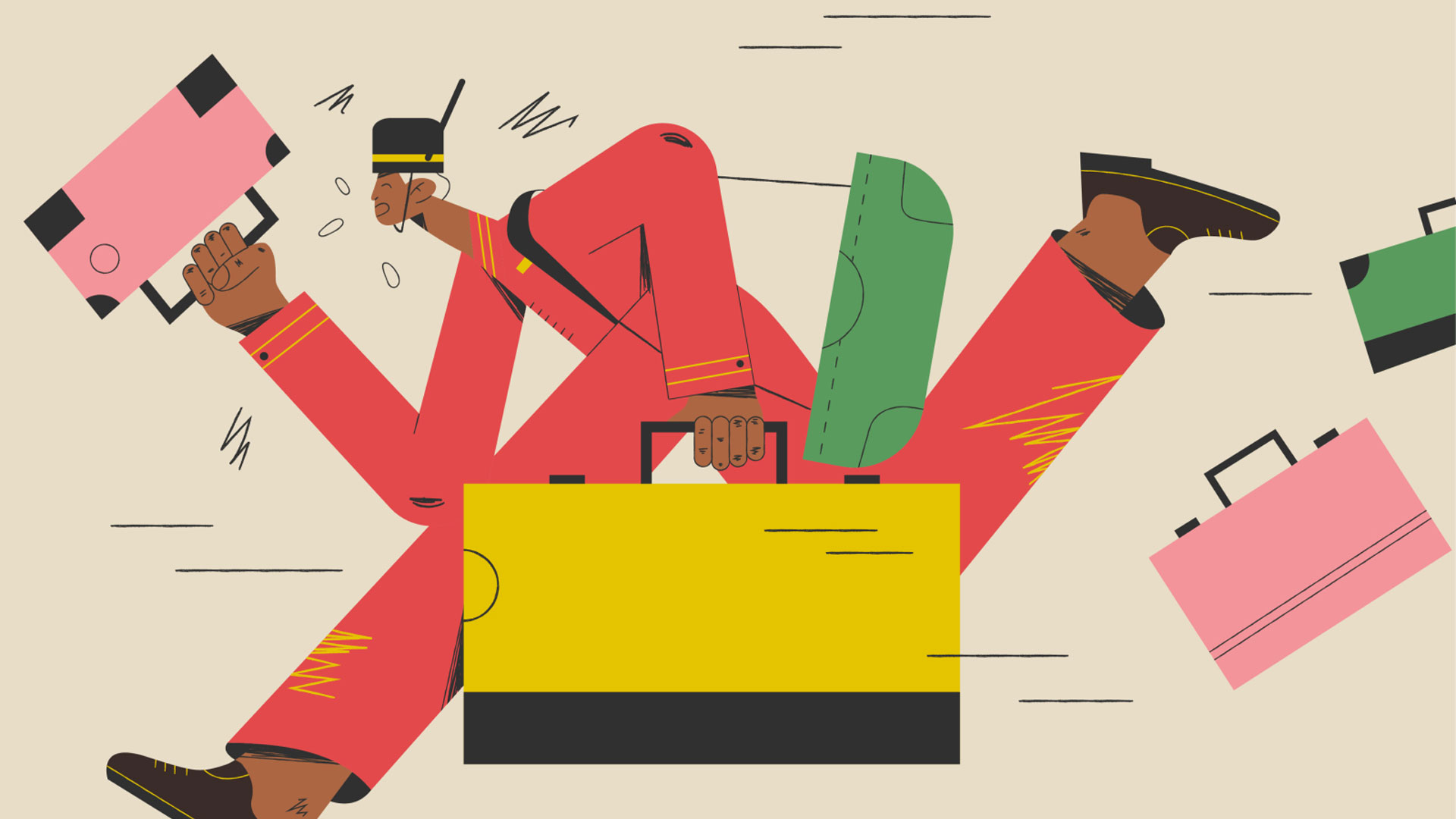 If you're looking for the best WordPress booking templates, this is the place to be! Reservation sites are usually launched by hoteliers or those who have tours so that users and customers can easily choose the best service from all services and conditions and pay for it in advance. In this article, we want to introduce you to the best WordPress reservation template.
WordPress plugins for these sites are pretty effective for designing a reservation site, but if you have decided to create your site entirely with reservation templates, stay tuned to Ertano to get acquainted with these templates.
Best WordPress booking templates
Online reservation is a system that allows you to introduce your services to your customers at a lower cost and, if the customer wishes, provide them with your service reservation date. Hotels, swimming pools, fitness clubs, gyms, yoga studios, parks, and leisure centers are all activities and services that can be used by booking websites. No matter your services, a booking website allows you to set up appointments online and easily manage your in-person bookings.
The online booking website gives you the power to manage human resources and reduce booking errors in the blink of an eye. These sites make the long and complicated trip process for users and service providers a few simple clicks.
The purpose of this article is to help you understand booking websites a little better first and then choose the best WordPress booking template for you.
Reason for launching a reservation website
We live in a world where almost everything is part of the internet, and jobs are at the top of the list. Nowadays, every business needs to have a significant online presence, regardless of their field of activity. Modern technology helps enterprises access online and quickly turn visits into revenue through an online booking system. The following are some key factors that will help you set up an online booking website.
Saving time
The booking website uses an automated platform to manage booking tasks so you can get more done in less time. The reservation system enables you to automate your customers' notifications! Once you've started your business on the platform, you'll no longer have to call your guests to remind them of their reservations. Everything runs in the background of your website, so you and your staff can focus on delivering the best experience to your customers.
Increase the number of reservations
One of the most important benefits of an online website is that you can receive customers 24 hours a day. So your customers do not have to wait for the next day or, worse, go to one of your competitors to book a service at any time. Customers have the opportunity to book your services with them at the right time, and you check their booking at the best chance.
In addition to booking at any time, customers can choose from home. Of course, you need to make your service information so transparent to the customer that you no longer need to call for details. You can keep your business calendar full throughout the year with all this!
Waiting list management
At this time, no one has the patience to wait behind the reception desk! Customers always expect their booking process to be immediate. The reservation website will help you manage your waiting list so that there are no longer long queues at the reception desk. This eliminates the need for your employees to apologize to customers for answering calls. Avoid the hassle of booking and automate everything with the booking website.
Globalize your business
With the increasing growth of various businesses, we have learned that physical services should not be an obstacle to running a business. With everything going online, companies have also changed a lot so that a business can have a lot of customers from all over the world. Launching a reservation website means that your customers can book the services they need from all over the world!
The best WordPress booking template
The theme is the central infrastructure of your website, so choosing the best template should be your priority in designing a site with WordPress. You do not need a unique template to build reservation websites; of course, several templates are specific to reservation websites, but these templates are not recommended. Because if you use one template, you will not be able to change to another template. For this reason, it is recommended that you use a multi-purpose template such as Ahura to design a reservation website, along with a reservation plugin.
With all these definitions, if you have decided to design your website with a reservation template, then there is no other choice! Follow us to get acquainted with the best WordPress templates for the reservation site.
Homey template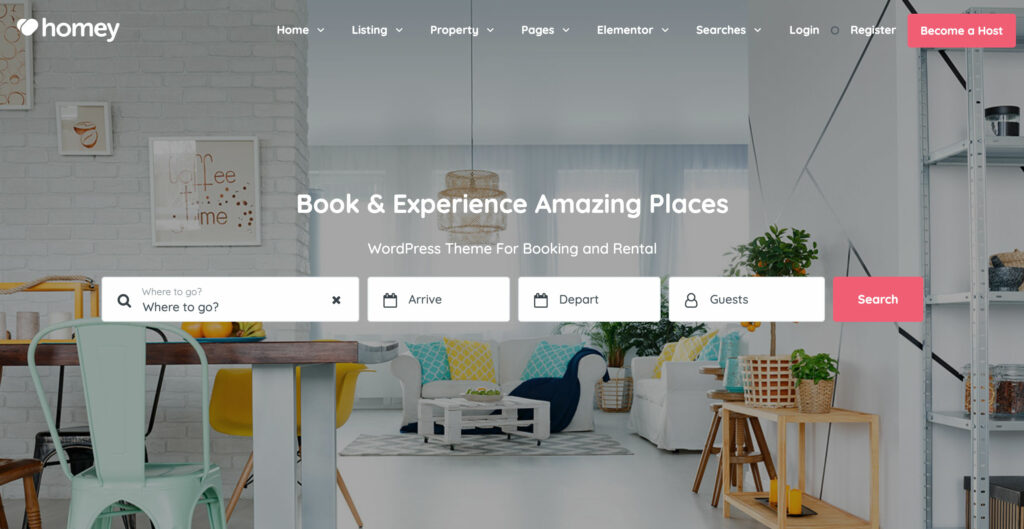 Homey is a versatile reservation platform that can draw the audience's eye to your service. Options for this template include pre-built websites for booking accommodation, boat rentals, and workspaces.
You have many options with Homey when configuring how your bookings are presented on your website. This includes a complete set of online booking forms, an availability calendar, and an instant booking tool, which will be available to you in a home format.
You can customize this template easily using the control panel. For more powerful personalization, a mentor is included in this template set with which you can edit any of the pre-made content to your liking. Homey has many features that can probably meet your needs for designing a booking website.
Kingo template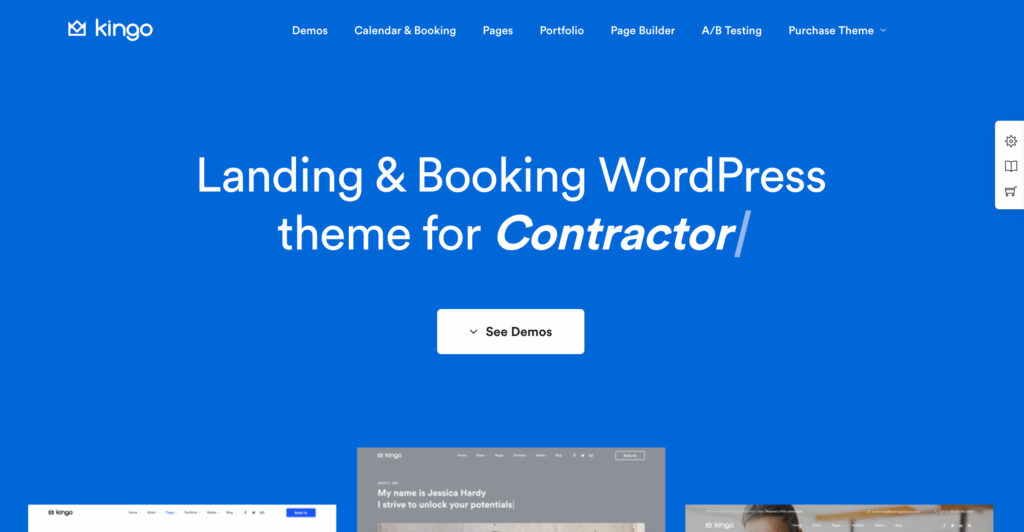 Kingo is a booking WordPress theme with features designed for small businesses. The impressive selection of pre-built demos of the website ensures that Kingo is ideally suited for a wide range of websites, including accountants, lawyers, contractors, and housing providers. In addition, Kingo comes with a powerful bookmarking tool to help you customize pre-made content.
Thanks to the Kingo online booking template, you have complete control over the type of appointments or reservations you can make through your site. When launching your site, you can choose how long the reservation can take, whether there is a need for a reservation, and how your users can pay for their reservation. If you want to sell your website products and services, whether connected to the online booking system or not, Kingo has the full support of e-commerce to make it happen.
One of the valuable features of Kingo that is not found in every online booking WordPress theme is the A / B testing tool. With the ability to run split tests on your website, you can determine which design or other options work best to convert your visitors into customers. Kingo helps you upgrade your service with its online booking features.
Bellevue template
Bellevue is an online hotel and hotel booking WordPress template that can categorize your services, such as rooms and meals, and show them to customers. Bellevue demos include lots of pre-made content and templates to ensure you can add your creative pages to the website. Some examples of this template include online booking form page design, availability checks, package layouts, and more. There is also a complete set of blogging templates in this template so you can share your latest news with your visitors. 
The MotoPress Hotel Booking plugin supports online booking of this template. So you have complete control over how your website works. This plugin helps you integrate your website with third-party, online, and offline calendar systems. The Bellevue template can also be combined with the Mentor plugin. This plugin gives you a wide range of color settings, fonts, and access options.
WP Rentals template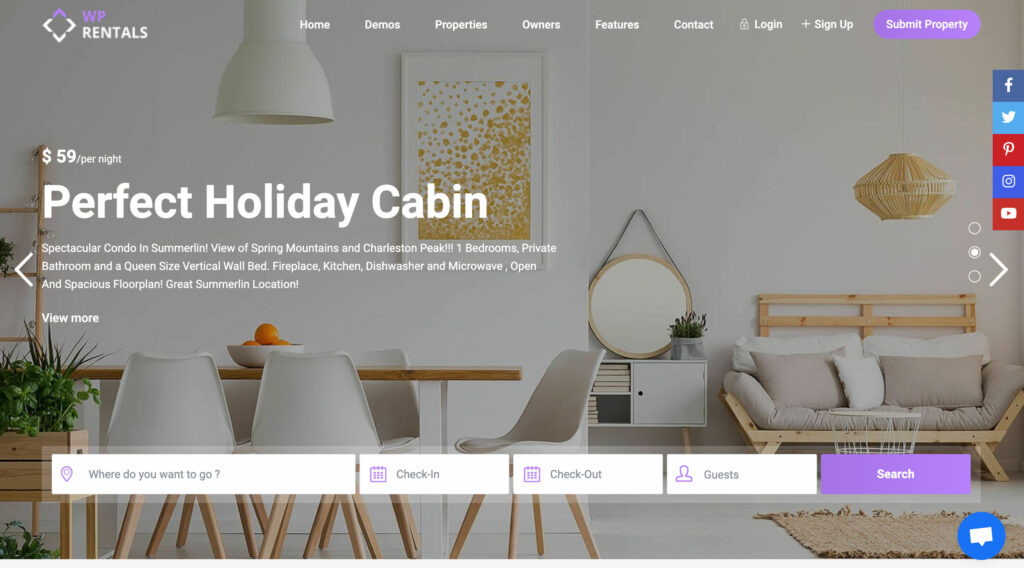 The booking system integrated with WP Rentals is very flexible, and you can most likely configure any booking you want to work with. In this team, you can set the price precisely as you wish, with discounts for longer bookings or other tempting options for customers. 
WP Rentals also includes a stylish collection of online booking forms. You can customize these forms to the type of reservations you want to make available on your website and customize them. Another good feature of WP Rentals is enabling instant booking on your website. If you enable this feature for a specific item on your site, the reservation will be made without your intervention as soon as the user submits.
WP Rentals provides a powerful search tool for users to find the services they want quickly. 
Hotel Xenia template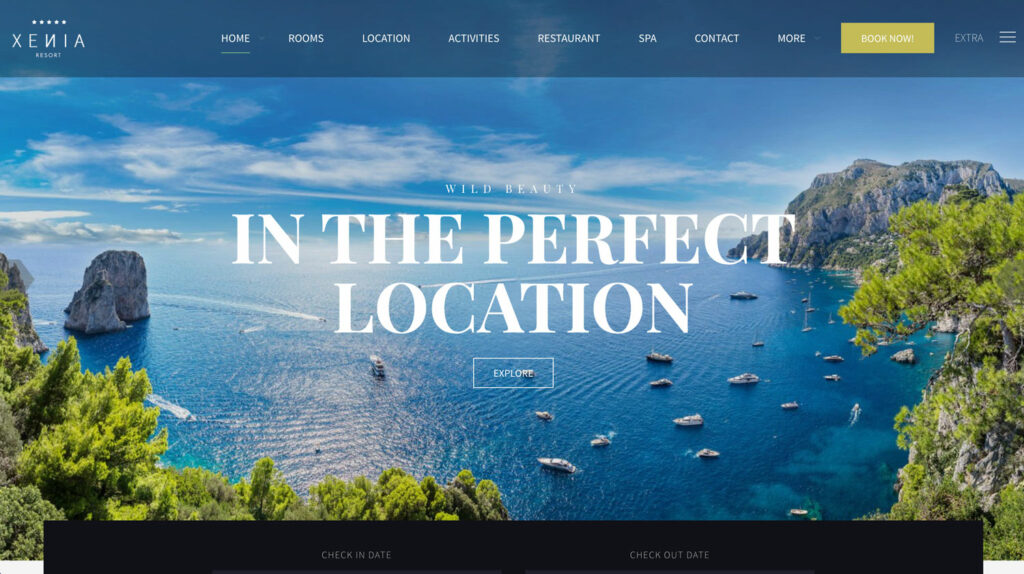 Zenia Hotel is a WordPress template for hotels and resorts with online booking capabilities. Thanks to a good selection of high-quality templates, the Xenia Hotel is perfect for building a collection of modern hotel websites, inns, and other accommodations.
Unlike the other templates mentioned above, this template does not have fully automatic online booking. Instead, it uses elementary online forms that the user will not be confused with when using them. These requests are then sent directly to the designated site administrator or recipient, allowing them to approve or reject the reservation. The webmaster of this website can communicate directly with the customer.
Gast template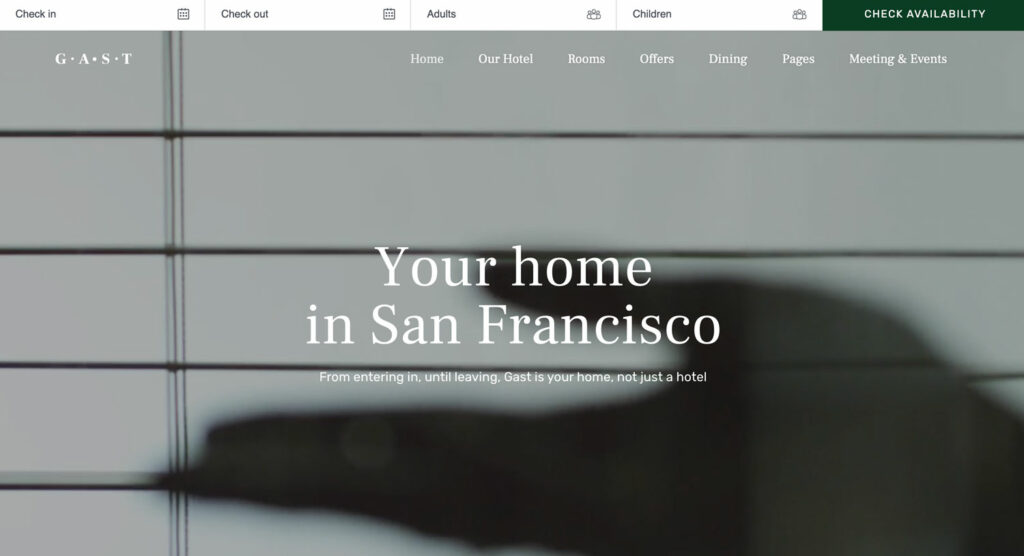 Gast has several demos for your accommodation and services booking website. Because Gast and its backup system are flexible, it can be configured to work for most scenarios. This template allows you to share the availability of your room or walk to the end and allow your guests to book and pay through the website. Since Gast can be used with multiple payment gateways, you will have a lot of control over how payments are collected on your website.
Depending on which Gast demo you choose, the home page of your hotel website can include a featured booking form. The rest of the home page layout provides space to display different rooms, types of accommodation available, sections to highlight features, and a guestbook feature to share feedback from people who have stayed at your accommodation.
If you need to edit any part of this template, you can do so through the Beaver Builder plugin. Gast has quality templates that can help you effectively advertise your entire accommodation online.
Entrepreneur template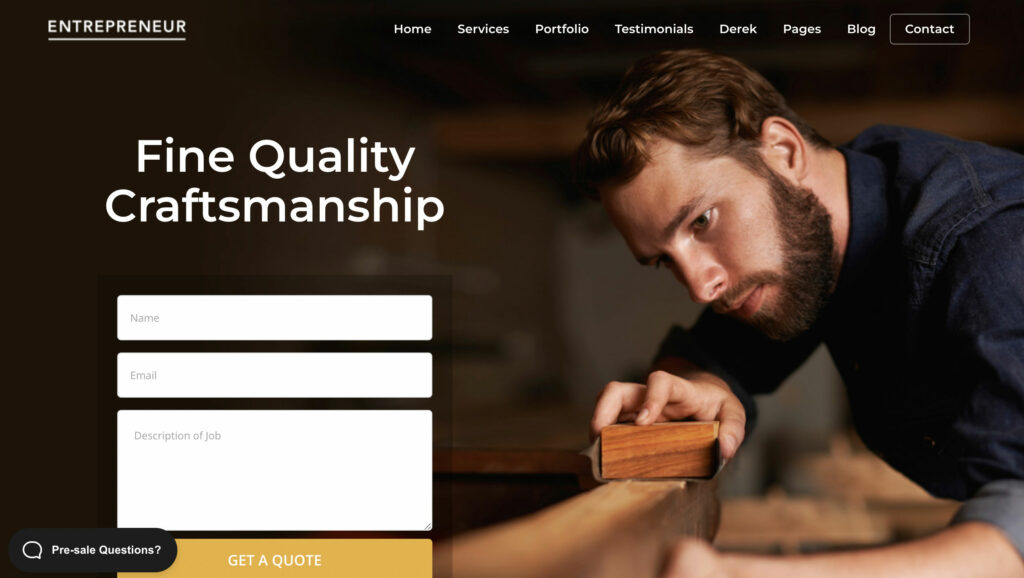 An entrepreneur can be a clear choice for anyone who offers online booking services from their website. This template is ideal for service providers such as masseurs or freelancers with whom customers want to book online. 
In addition to the jobs mentioned above, the template can be suitable for consultants, private trainers, and hairdressers. There is also a demo of this template that can work well for small businesses.
This template gives you complete control over the types of reservations you can accept through your website. You can easily customize your website with the Entrepreneur template. For example, set discounts and premium rates or enable a mandatory deposit condition.
One of the valuable aspects of this template is the ability to run multiple booking calendars on your website. Also, if you attach your template to the WooCommerce plugin, you can use the auto-reminder email feature, ensuring that none of your customers accidentally miss their appointments.
Book Your Travel template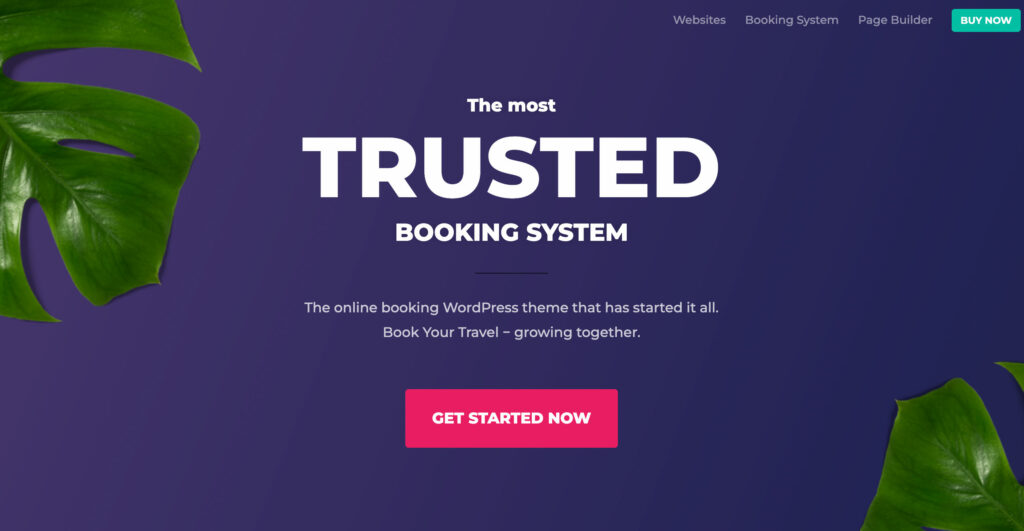 It has excellent features and remarkable hotel and travel patterns. Thanks to this template's potent online booking tool, you can start the process of automating your booking system. With the Book Your Travel template, you can add an availability checker, advanced search filter, and online booking to your site. Since this theme has multi-vendor support, you can create a website where other users can sign up and add their bookable services.
This theme is available with all the tools you may need for your website. It does not matter if you want to build a website for a beach resort or an eco-lodge; you should find a suitable demo among the 20 options this template offers. Do not worry! If your choice needs to be changed, you can change it in the blink of an eye with the WPBakery Page Builder plugin. 
With such a long list of features, you may not want to do something Book Your Travel cannot afford.
Concluding remarks
Having a reservation website helps you provide the best quality services to the customer. On the other hand, with the increasing progress of all businesses, you will not lag behind competitors. 
As we said, you will not need a unique template to design a website with WordPress because multi-purpose templates like Ahura can meet your needs, and on the other hand, if you need to change the use of your website, you can do it like drinking water.
But hold on! This is not the best way!
But if you design your website with a reservation template, you will be doomed to use your regular services! Of course, keep in mind that booking templates can be a good option if your business is the same forever.
We suggest using a versatile WordPress template to design your site. Finally, use a WordPress reservation plugin for the reservation system.