Best web design software in 2021
February 12, 2022
6 March 2022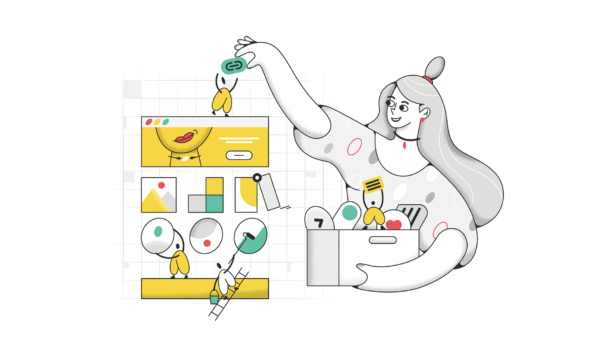 Many people think that they can start designing a site using the software. But all the software in this field is only for coding and programming. In this article, we will introduce the best web design software to you.
That means you need to be fluent in a programming language; So you can use it to start coding and launching a site. The easiest way to set up a site is to use content management systems. Content management systems are web-based software that can launch a site in the shortest possible time.
So there is no software to build your site that you can install on your system and start designing and building different site pages. Follow us in this article to introduce you to content management systems.
What is a content management system or CMS
When WordPress and other content management systems were not yet built, designing a simple site was very time-consuming until a few years ago. It took several months to code. But with the advent of content management systems like WordPress, you can finally launch any site in a week.
A CMS is a tool that helps us to design and manage our website easily. By converting our commands into code. In simpler language, it does the programming work for us. In fact, these tools make coding very concise and easy. CMS is used in different parts of the website. Such as managing site text, main settings, appearance settings, and so on. We can use these to program, manage and design our site as desired. There are currently many different content management systems (CMS) in the world. Like WordPress, which is the most popular. There are other content management systems like Joomla, Drupal and., But none have the power of WordPress.
Why WordPress is the best content management system
We said that WordPress is the best content management system (CMS). Now we want to make the reason for this clear to you. First of all, it should be said that working with WordPress and designing a site with it is easy. But working with WordPress itself requires training, and not every beginner can work with it professionally.
SEO of websites designed by WordPress. This means that the sites designed by it are placed in the first search results of Google and are automatically SEO.
Website Ownership. You can use WordPress to change any part of your website and customize it.
Website Responsive. That is, it is displayed well on any device (computer, mobile phone, etc.). So, websites that are well displayed on any device and have a good response are called Responsive.
WordPress is very fast and responds well.
One of its important advantages is its high security. WordPress fixes all its security bugs in each update.
Its strong support system makes users face the least problems. WordPress also has a translated website for most languages ​​in the world, such as Persian WordPress.
With WordPress you can easily manage and edit the files and images you have uploaded to your website.
It is true that working with WordPress requires training, but it is designed to be very easy to access and use.
WordPress alone is a simple website design software. Plugins and additional features that make WordPress one of the best software. So it can be said that this is the most important feature.
Finally, we must say that WordPress has other features and characteristics that it is not possible to say all of them in one article. 🙂
The best site design software with programming
Today, there is various software for site design, each of which has specific features according to your needs and desires. But in general, we have two categories of site design software—one under the web and the other under Windows. The difference between the two is that the software under Windows acts as a program; It must be installed on your system and work without internet. In fact, you can go to your website whenever you want and make the changes you want. However, it should be noted that such software also has limitations and problems, including the need to change the original code for each minor edit and edit and configure manually because there is no management department in these programs.
Unlike the previous case, website design software, although you always need the Internet to work with them, you can easily make the desired changes in all parts of your site. Such programs have a management panel that makes your work very easy. Web site design software means content management systems such as WordPress.
If you want to customize your site with HTML and CSS and finally PHP, the best software to do this is Atom and VS Code.
total resulting
You generally realize that site design with any software except content management systems such as WordPress requires programming knowledge. So do not look for software you install on your computer system, and you can start designing the site. We suggest you use WordPress so that you can design a great site for yourself without a little programming knowledge.
If you are not familiar with WordPress, we recommend a completely free period WordPress Tutorials view. After watching this course, you will work with web-based software for building websites (WordPress).
Good luck. 🙂